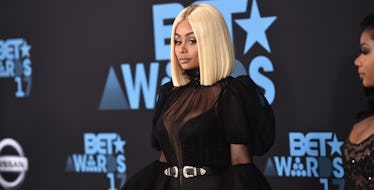 Blac Chyna DGAF About Rob Kardashian, Shows Off New Rainbow Hair On Instagram
Alberto E. Rodriguez/Getty Images
Blac Chyna is sending a pretty clear message to Rob Kardashian in the wake of him posting revenge porn of her on Instagram: She doesn't give a f*ck about him.
Nope, instead of publicly focusing on her ex-fiancé's posts (at least more than just responding on Snapchat), she's donning a rainbow wig, driving around LA, and documenting it all on social media.
Elite Daily reached out to Blac Chyna's and Rob Kardashian's teams for comment, but did not hear back by time of publication.
Chyna's first post on Instagram following all of the Kardashian drama was an ad for her beauty line, Lashed Cosmetics. The second was this selfie of her wearing a pastel rainbow wig, along with a follow-up video of her modeling it.
It's funny that she's completely ignoring him because that's exactly what his family is doing.
None of the Kardashian women have said a word about Rob's actions that could potentially land him in prison.
Yesterday, all of the Kardashian sisters were just tweeting/posting on Instagram and Snapchat about their own lives.
Kim was posting all day about her KKW Beauty contour kit restock, Kris was posting about Kim and Kendall (we know who her favorites are), Kourtney was tweeting about shoes, Kylie posted a pic of herself at a safari (?), and — my favorite thing of the day— Khloé was tweeting about fried chicken.
Apparently, National Fried Chicken Day was more pressing to Khloé than giving any attention to Rob. I am living for this.
Chyna is taking a page from the Kardashian book by ignoring him. I mean, I'm sure she's in constant talks with her lawyer about how she's going to handle this situation moving forward (we already know she's looking into legal action), but outside of that, Rob is seemingly getting no attention from the women in his life.
The rest of Chyna's Snapchats are a lot of clips of her driving around and listening to music with a random guy.
I hope it's driving Rob to new levels of crazy, although I'm not sure he could get any crazier than he is now. Fragile masculinity is a hell of a thing to witness, ain't it?
Then there's a video of her sitting on a swing that's... inside a house?
Why does someone have a swing in their house?
Anyway, Rob Kardashian f*cking sucks.