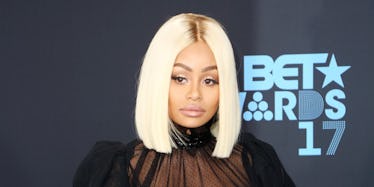 Blac Chyna's Attorney Responds To Rob K Drama: "I Am Exploring All Legal Remedies"
Maury Phillips/Getty Images
Blac Chyna's attorney is looking into "legal remedies" after Rob Kardashian posted revenge porn of Chyna on Instagram in an insane rant that went on for hours on July 5.
Chyna's attorney, Walter Mosley, said in a statement to People last night, "I am exploring all legal remedies and protections available to my client at this time in attempts to best advise her on how she may want to proceed."
Elite Daily reached out to Chyna and Kardashian's teams for comment, but did not hear back by time of publication.
Kardashian's posts started around 10:30 a.m. on July 5. In them, he accused Chyna of cheating on him, abusing drugs and alcohol, using him for money, and being an unfit mother. These captions were paired with nude photos from Chyna that he posted without her consent, aka revenge porn.
Kardashian's account was suspended by Instagram as a result, so he moved to Twitter to continue bashing Chyna there instead. Apparently, being a "savage" made him forget California has laws against revenge porn.
Chyna allegedly responded to Kardashian's posts on Snapchat. In the first post, she accused him of domestic abuse and said,
Rob u did all this but u beat me up and try act it never happen !!!!! U put hand on me I swear on god !!!! On my kids but I'm supposed to be quiet because you're a Kardashian
The other post said,
The light will come to the light
A couple of sources close to Chyna told People Kardashian has, "sent people over to her house to pick up things that don't even exist. There needs to be boundaries set as it's currently getting out of hand."
The second source said, "She's had to have a new phone number every month and constantly has to change her number. While everyone is writing stories and thinking it's fun gossip, it's actually dangerous."
Yup. No one should be shaming Chyna for Kardashian's actions right now.
Before his Instagram was suspended, Kardashian posted a series of screenshots of notes on his phone detailing why he posted and why he doesn't feel bad about his actions.
He said,
I'm a savage and I always have been and I always will be and I don't give a f*ck. All u may think my daughter may see this one day and I hope she does cuz this isn't love. I never want my daughter to be raised by a woman like Chyna who cheats and does drugs and alcohol with my baby in the house. Chyna been like this long before me but I chose to love all of her cuz I don't judge. But second the baby was born she got body surgery I paid for and was gone from me and dreams life. She only could breast feed for 4 weeks because she wanted to drink alcohol so bad. My daughter is the best thing that happened to me and she will know that Chyna did this out of spite not love cuz she mad my little sister took her baby daddy.
Just to clarify, he should not have posted any of these photos, and he should feel bad about posting them. This is not "savage." This is not funny. This is not the mark of a strong man doing anything he needs to defend his child.
This is most likely criminal sexual harassment, according to California state law. It's the law Chyna's attorney is most likely looking into as we speak.
Merriam-Webster's definition of revenge porn is:
Sexually explicit images of a person posted online without that person's consent especially as a form of revenge or harassment.
Hmmm, yeah. Hits the nail on the head quite nicely.
According to the Cyber Civil Rights Initiative, 38 states have laws against revenge porn, and like we said previously, California is one of them.
California amended their law in 2014 to state,
This bill would instead provide that a person who intentionally distributes an image, as described, of the intimate body part or parts, as defined, of another identifiable person, or an image of the person depicted engaging in specified sexual acts, under circumstances in which the persons agree or understand that the image remain private, the person distributing the image knows or should know that distribution of the image will cause serious emotional distress, and the person depicted suffers that distress, is guilty of disorderly conduct. The bill would also provide that it is not a violation of this provision to distribute the image under certain circumstances, including where the distribution is made in the course of reporting an unlawful activity. The bill makes other technical and clarifying changes. Because this bill would broaden the scope of a crime, it would impose a state-mandated local program.
Disorderly conduct is a misdemeanor that can land you up to six months in jail and a fine, according to Wallin and Klarich Law Corporation.
I don't know about you, but that sounds GREAT to me.
In one of his posts, Kardashian said, "Chyna u literally lost on this one."
Nah, Rob. You're probably going to have a big legal battle ahead of you and some jail time, caused completely by you. So you're objectively the loser here.