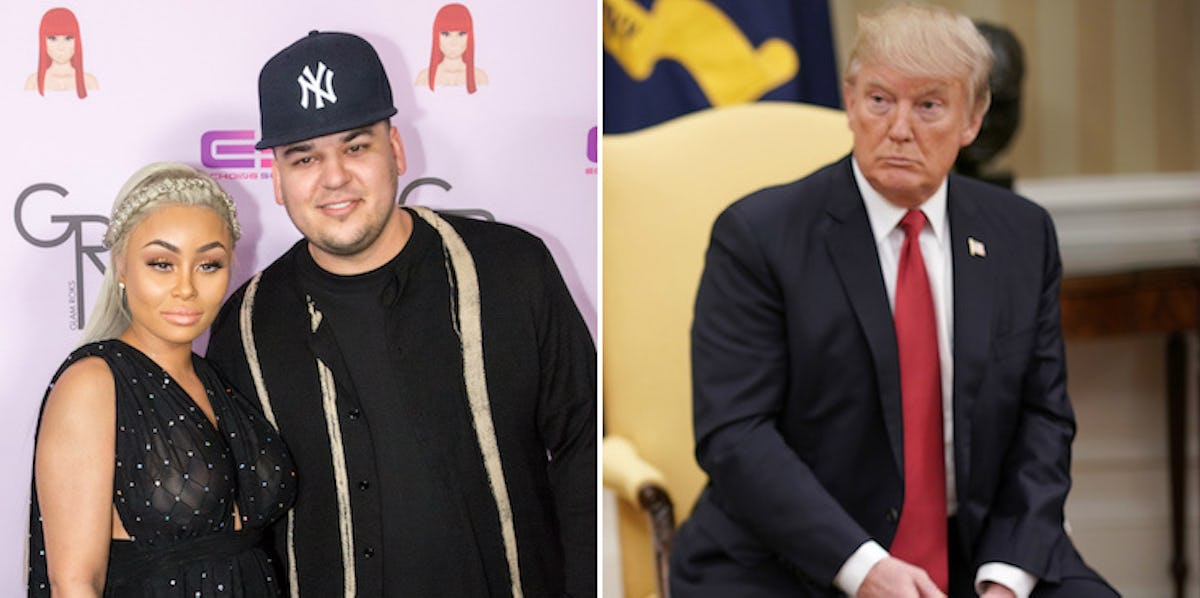 This Genius Tweet About Trump, Blac Chyna, And Rob Kardashian Is Making Twitter Lose It
Greg Doherty/Getty Images, Win McNamee/Getty Images
The internet exploded on Wednesday with the drama surrounding exes Rob Kardashian and Blac Chyna, after Rob Kardashian went off on his ex-fiancée on social media.
The social media showdown was the kind of ugly that leaves everyone watching unhappy and uncomfortable. Kardashian took to Instagram, and then Twitter, to accuse the mother of his child of cheating on him and to share nude photos of her (which could be illegal). No fun celebrity gossip on this one, folks.
But among all the unpleasantness, one perceptive Twitter user noticed a similarity with another prolific tweeter.
See if you can spot the connection.
Politics and celebrity drama make strange bedfellows.
It is, of course, just a perfect coincidence between alleged betrayals by various Ch(i/y)nas.
President Trump is, of course, not talking about the dispute between the two celebrity exes (though he's definitely been known to weigh in about celebrities on Twitter). He's talking about the actual country of China and its trade deals with North Korea.
The United States has warned China that it risks losing trade with the United States if it continues to trade with North Korea, according to CNBC, and Trump wants China to put pressure on North Korea — with whom it is a major trading partner — to quash the country's nuclear program.
Kardashian, on the other hand, is talking about a kind of betrayal a little closer to home.
His outbursts on social media drew outrage after he posted nude photos of Blac Chyna to social media, a potentially criminal act given California's laws regarding revenge porn. After being banned from Instagram, Rob took to Twitter, where he restated his grievances against his ex, including accusing her of having their daughter, Dream, "out of spite." He even dragged his younger sister Kylie Jenner, who had previously dated Chyna's ex Tyga, into the mess.
Still, the parallels were too perfect to ignore.
Some were not so sure it was a coincidence.
It just goes to show: When drama starts happening on social media, there's no telling where it will end up.