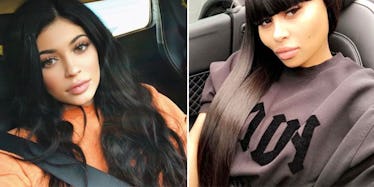 Rob Kardashian Drags Kylie Jenner Into His Drama With Blac Chyna
Instagram
Earlier today, Rob Kardashian claimed Blac Chyna was cheating on him and retaliated by posting revenge porn photos of her on Instagram and Twitter.
The 30-year-old reality star posted naked photos of the mother of his child all over social media in addition to spewing out a hateful rhetoric that is honestly difficult to stomach.
Elite Daily reached out to Rob Kardashian and Blac Chyna for comment and did not hear back by the time of publication.
Amongst claims of Chyna's drug problems, cheating scandals, surgeries, and staged family time, Rob Kardashian has now dragged his youngest sister, Kylie Jenner, into the scathing pool of drama.
Rob Kardashian is officially blocked from Instagram, so he took his outrage to Twitter because, based on the actions of the man in charge of the United States, that's the standard protocol when things don't go your way.
He tweeted,
Soon as kylie and tyga broke up Chyna was over the game. She had a baby out of spite and I'll never view her the same.
If you aren't up to speed on the Kardashian family tree, here's a quick refresher: Chyna used to date Tyga and they have a son named King. Tyga and Chyna broke up. Tyga started dating Kylie Jenner. Kylie Jenner's half-brother is Rob Kardashian. Rob Kardashian started dating Blac Chyna. They got engaged. They broke up. They allegedly got married. They broke up. They have a daughter together; her name is Dream.
(Dear diary, why couldn't I have memorized my college algebra equations with this much ease?)
So, in addition to the rest of Rob's cheating allegations and illegal posting of photos, he is claiming Chyna was only in "the game" (the game at hand is the classic "bringing a living, breathing child into this world" family board game) out of spite because Kylie was dating her ex.
Prior to tweeting about his youngest sister, he called out Chyna for leaving as soon as Dream was born:
We had a beautiful baby girl that was the best thing that's happened to me and soon as that baby was born Chyna was out.
This showdown has taken things beyond the contrived reality-show drama we love, and I can't be the only one to say I'm not excited to see what's next.