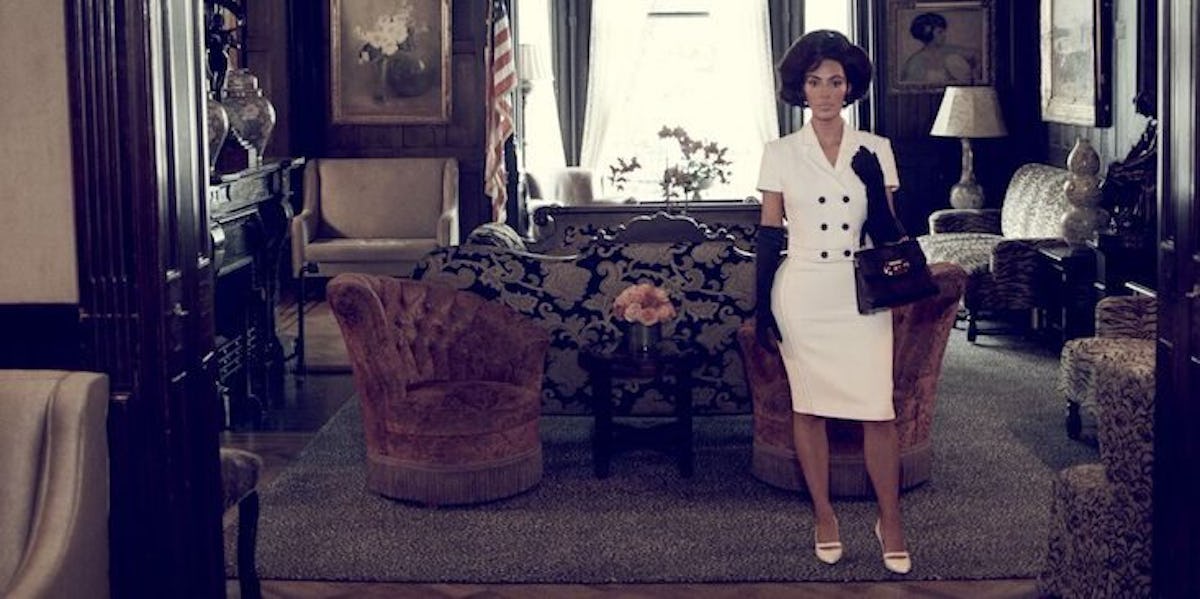 Kim Kardashian Wants People To Recognize Her Talent: "Give A Girl A Little Respect"
Steven Klein/Interview Magazine
Kim Kardashian is always someone fun to talk about. Whether it's her sex tape, a racy episode of Keeping Up With The Kardashians, or appearing on red carpets with the most insane outfits, her name is always in our mouths. But, why? Why is Kim Kardashian famous? I want to know why we're all so obsessed! Whether you love her or hate her, you definitely know her. My 99-year-old godmother knows her, for goodness' sake. It's insanity.
The superstar posed for the September issue of Interview magazine, and it's very... surprising. In the photo, shot by photographer Steven Klein, the 36-year-old is posing with her daughter, North West, and emulating Jackie Kennedy. Yes, you read that right. Kim K is transformed into the former first lady. Nobody understands the similarities, but it happened, and we're rolling with it.
In the interview with Interview magazine, Kim K remarks on being underestimated,
I used to say, 'I love being underestimated.' But now when I hear, 'They're so not talented,'— ten years into it — I'm kind of like, 'OK, give a girl a little respect.' If I'm so not talented, if I do nothing, then how is my career my reality? And I poke fun at it, like when I was on the cover of Forbes I posted the hashtag #NotBadForAGirlWithNoTalent. I don't mind being underestimated because it does fuel me. But after a while, I do feel like, 'C'mon, you can recognize a little bit.'
Kim K is brutally honest in the interview, defending her path to her mysterious fame.
You can say a lot of things about me, but you cannot say I don't work hard. I don't sing. I don't dance. I don't act. But I am not lazy.
Say what you want about Kim K, but she is most certainly not lazy. I'll also admit that I was obsessed with the first two seasons of KUWTK, and I had no clue who they were. What kind of spell did the Kardashians put on us?!