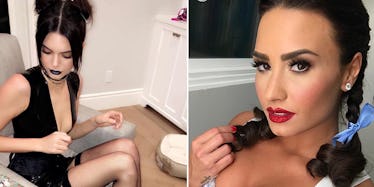 21 Celebrity Halloween Costumes That Will Make You Feel Bad About Yours
Snapchat/Instagram
If you have an Instagram, you know everyone from Ariel Winter and Beyoncé to Kylie and Kendall Jenner killed the costume game this Halloween.
While they were dressing all sexy, I was sitting in bed stuffing my face with Halloween candy. To say I gained 20 pounds in the last two days is probably an understatement.
I'm currently shoving a Reese's into my mouth while I write this, so yeah, you could say I'm really living it up.
This year, everyone celebrated the holiday a little early by partying it up this weekend. It actually was pretty nice to have Halloween fall on a Monday because that meant there were festivities all week long.
I started dressing up in costume on Thursday night, but I was out of ideas by Friday morning.
On Saturday, I ended up just running around New York City wearing an ugly baby mask and calling it a night. You think I'm kidding? I'm not.
Coming up with costumes is hard AF. You want to be creative and original, but you also don't want to spend $300 on a shitty outfit for one night.
It seems so easy for famous people to dress up on Halloween. The Kardashians can just hire a team to pick out their outfits for them, it's that simple. I guess when you have money and a large fan base, anything is possible!
Too bad I have five bucks in my bank account and zero friends!
Haha, oh.
If your costume also sucked this Halloween, don't worry, there's still hope for next year. For now, though, we might as well wallow in our shittiness and sorrow.
Below, check out 21 celebrity Halloween costumes that will make you feel bad about what you wore.
Have fun!!!!!
2. And Khloé Kardashian and Tristan Thompson killed it as Storm and Black Panther.
They also danced and made out all night, but that's a different story.
5. Demi Lovato celebrated Halloween somewhere over the rainbow as Dorothy from "Wizard of Oz."
6. And her BFF Nick Jonas joined her on the Yellow Brick Road as Scarecrow.
7. Kourtney Kardashian was a dead bride and looked scary AF.
8. And Emily Ratajkowski was a modern-day Cleopatra, so yeah, that was hot.
9. Kendall Jenner was a goth... I think...?!
10. And Vanessa Hudgens went all out as a fortune teller.
Uh, can you tell me if I'll one day find love or should I just give up?!
11. Beyoncé and Blue Ivy dressed as Salt-N-Pepa and destroyed everyone. Are you even surprised?
12. And Paris Hilton was a sexy Little Red Riding Hood... with a really tiny dog.
13. Sofia Richie was a race car driver, so that's badass and fun.
14. Emma Roberts kept things classic and just rocked some skull makeup.
15. Amy Schumer and her boyfriend went as Dustin and Eleven from "Stranger Things."
16. Kate Hudson was a student from the '50s who def needed to be sent to detention.
17. And Jenna Dewan Tatum was a mystical unicorn who looked perfect, of course.
18. Tyga (and Kylie Jenner) were also skeletons but super fancy ones.
Why do they have such nice clothes if they're supposed to be dead?!
19. And Mariah Carey was a devil... a really sexy one.
MIMI IS QUEEEEN.
20. Ellen DeGeneres was Sia, but I don't think Sia was Ellen.
21. And our MVP Lindsay Lohan was... whatever the fuck this is.
Happy Halloween, you guys. If all else fails, go buy a baby mask and run around town!