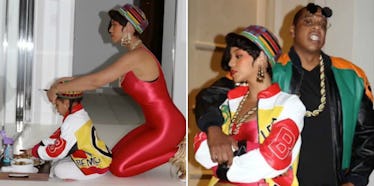 Beyoncé And Blue Ivy's Costumes Already Won Halloween, So You Can Go Home Now
Instagram
It's Monday, October 31, which means your favorite holiday falls on your least favorite day of the week.
It's OK, though, because nothing helps with a case of the Mondays like dressing up in a crazy, fun costume.
What are you sitting at your desk dressed as? A clown? Harambe? Some obscure reference none of your co-workers get that will undoubtedly force you to eat lunch alone for a while?
Well, sorry to burst your bubble, but it doesn't really matter what your costume is this Halloween.
Why?
I'll tell you why: This past weekend, Beyoncé, Blue Ivy and Tina Knowles won Halloween by dressing up as Salt-N-Pepa.
It gets better, though, because not only did Beyoncé's fam get decked out to look like Salt-N-Pepa, they recreated the exact look from the music video for Salt-N-Pepa's '80s hit, "Push It."
No to be too cheesy, but, Carters, this is really, really good. If Beyoncé and Jay Z aren't the definition of Halloween couple goals this year, show me who is.
#HappyHalloween pic.twitter.com/jszqhyWHpv — Complex (@ComplexMag) October 31, 2016
Beyoncé and Blue Ivy's matching leather jackets, complete with the "idol maker" and "let it be music" phrases, were probably the most fitting Salt-N-Pepa tribute you'll ever see.
Beyoncé, Blue and Mama Tina dressed up as Salt-N-Pepa for Halloween. Queens! pic.twitter.com/MiHdK9TJiD — ️ ️ ️ ️ ️ (@goddessyonce) October 31, 2016
In case you forgot, Beyoncé, Blue Ivy and Jay Z won Halloween last year by dressing up as the cast of the Eddie Murphy hit "Coming to America."
@ComplexMag #HappyHalloween pic.twitter.com/4RWxsKERdo — Dinesh Kumar (@DHardayal) October 31, 2016
Yeah, the Carters are clearly Halloween pros, and you should probably never even attempt to coordinate any sort of group costume thing ever again. In fact, don't even bother dressing up at all.
If Beyoncé and the gang followed up "Coming to America" with Salt-N-Pepa's "Push it," what kind of fire do you think they're going to come with next October?
I know, that's a pretty scary thought, but you know you're already thinking it. In any event, Happy Halloween... I guess.
Citations: Beyoncé Got the Whole Family to Do a Tribute to Salt-N-Pepa (The Cut)