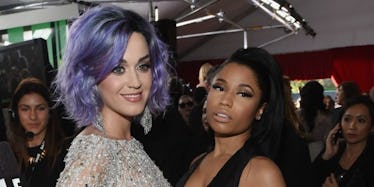 Nicki Minaj Calls Katy Perry Her "Sister" After VMA Performance In Sweet Instagram
Getty Images/ Larry Busacca
There's always so much feuding happening in Hollywood. That's why it's amazing to see two female celebs openly support each other. On Aug. 27, Nicki Minaj and Katy Perry closed the 2017 VMAs with a live performance of "Swish, Swish." It was actually pretty epic. Both women sported (no pun intended) basketball themed clothing — Perry rocked a basketball corset while Minaj wore a referee uniform with thigh high boots. Understatement of the year: They killed it. How Nicki Minaj can do a kick*ss performance in skin tight boots, I will never know. These two ladies support each other on and off stage. Nicki Minaj's Instagram of Katy Perry after the VMAs was ultimate friendship goals.
On Aug. 28, Minaj took to Instagram to congratulate Katy Perry on hosting the VMAs. The caption read,
It was an honor to share the stage with my sister @katyperry last night. I love this little baby. She and I can go months w/o speaking or seeing each other but as soon as we link back up, it's nothing but genuine love & respect. I'm so proud of you Katy Kat. Check out the #SwishSwishVIDEO on VEVO you guys.
Seriously, so sweet. Can Nicki Minaj be my friend? Below is a video of the full performance which includes Perry swinging from a rope and Minaj looking like a total kween.
Leading up to the release of the "Swish, Swish" music video, fans thought Perry would use it as an opportunity to clapback at Taylor Swift's "Bad Blood." Instead of taking the "savage" road, Perry used it as a big "whatever, Imma do me."
The hilarious video features two basketball teams filled with celebrities. It's basically the complete opposite of "Bad Blood." Instead of actresses, singers, and models training to be killer assassins, Perry's star-studded team happen to be a bunch of total klutzes who pull together to win the game. Pretty adorbs.
While celebs throwing shade makes me want to grab a bowl of popcorn and watch on the sidelines, I'm genuinely happy to see fellow artists support each other. I hope Nicki Minaj and Katy Perry inspire others to build one another up.