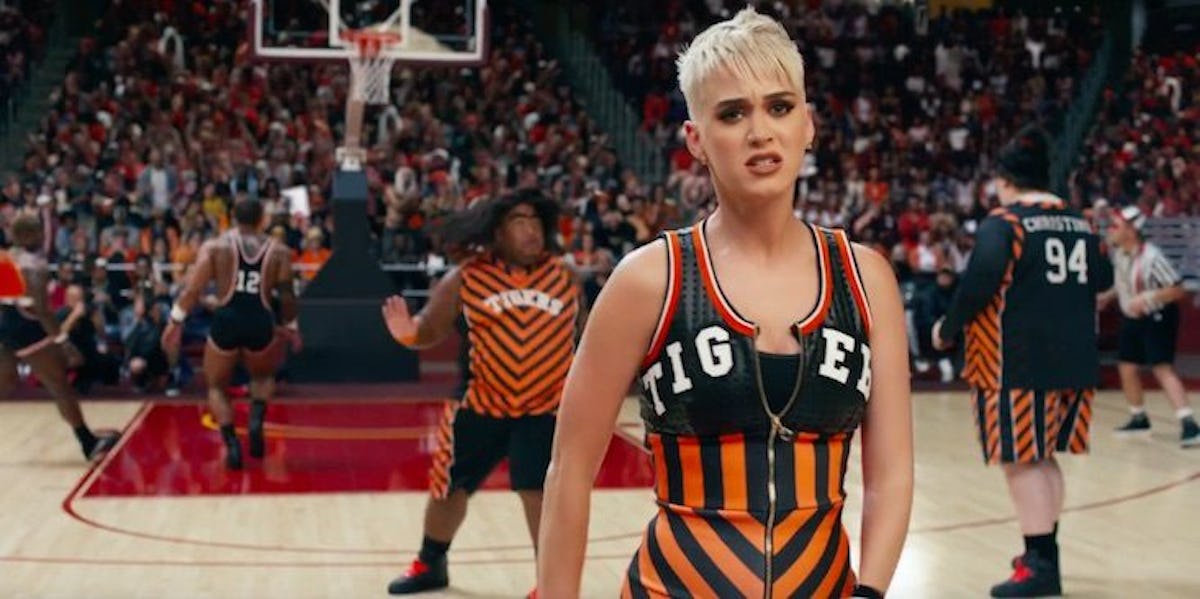 Hilarious Memes From Katy Perry's "Swish Swish" Video That Will Have You In Tears
YouTube/Vevo
Swish swish, bish. Katy Perry's music video for "Swish Swish" feat. Nicki Minaj is finally here, people, and it's downright hilarious. I'm not sure exactly what I was expecting from this video, but the vibes from the teasers we got definitely pegged it as some kind of Taylor Swift "Bad Blood" comeback. The video is star-studded, just like Swift's, but it definitely doesn't feel like a diss video at all... in fact, it's probably the funniest thing you'll see all day. Twitter thought so, too, because memes of Katy Perry's "Swish Swish" music video are already cropping up all over the place.
The video shows two teams going head-to-head in a friendly ol' game of basketball. Katy's team, the Tigers, are taking on the Sheep (which is a shoutout to the songs lyrics and, many think, Taylor Swift). Celebrities like Terry Crews, Stranger Things' Gaten Matarazzo, Molly Shannon, and THE frickin' Mountain from Game of Thrones (Thor Björnsson) are all in the video. Oh, and can't forget the goddess that is Nicki Minaj.
The video is so damn funny, and seems to show that Katy Perry is always down to make fun of herself and own the negative things people say about her. Her facial expressions are everything and fans can't help but use them for their own memes, completely unrelated to the video.
Literally amazing.
Katy Perry and Taylor Swift's feud has been in the news for what feels like actual years now. Just this week, Perry told SiriusXM's The Morning Mash Up that she's over all the hate, but she hasn't heard anything from Swift's team. She said,
Listen, I'd love for the beef to end. I'd love to take it off the BBQ. I'm down, but I haven't heard anything of it.
Since Perry is hosting the VMAs on Sunday, Aug. 27 and Taylor Swift is about to make a huge musical comeback, fans are hoping this feud is all for show and they'll actually reunite at the VMAs. I was SO against this, since it'd be drama just for the sake of ratings, but now I'm kind of hoping it all goes down so we can squash this once and for all.
SWISH SWISH, BISH!