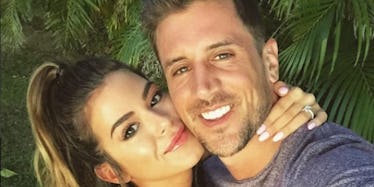 8 'Bachelor' And 'Bachelorette' Couples Who Are Still Together After The Show
Instagram
Love doesn't always last in the world of reality television. However, there are eight couples from The Bachelor franchise that beat the odds and are still together.
After watching the beautiful proposals and giant Neil Lane diamond rings being given out, you might be surprised to learn most couples on The Bachelor and The Bachelorette don't even make it past the first year.
US Weekly has reported Nick Viall and Vanessa Grimaldi, the most recent engaged couple from The Bachelor, have allegedly broken up. Neither of them have confirmed the break up on their social media, but there's been a recent slew of rumors that these two are on the rocks.
In my opinion, this relationship is a train wreck. They live in two different countries and this was Viall's FOURTH time trying to find love on reality TV. Red flag y'all!
People always say the show isn't real and you can't fall in love that fast and blah, blah, blah. To them I respond, "I can't hear you!" and cover my ears. Real adult stuff.
OK, so the odds aren't great. With the recent split of Ben Higgins and Lauren Bushnell, I can see how people start to get discouraged. However, there have been some lasting relationships from The Bachelor, The Bachelorette, and Bachelor In Paradise.
Really though, how crazy of a notion is this? A bunch of super hot people, around the same age, film a once-in-a-lifetime experience together. I mean, some of them are bound to meet someone they truly click with.
Here are the eight couples that are still together from the series.
1. JoJo Fletcher And Jordan Rogers
I am rooting for these two so hard. They've already made it a year, and seem like the most normal couple to come out of the franchise. Fletcher and Rogers are often seen laying low, grocery shopping, and jamming out to Top 40 hits in the car on Fletcher's Snapchat. Although there's no wedding date set, JoJo has been talking nuptials, babies, and a possible TV special.
2. Kaitlyn Bristowe And Shawn Booth
These two are so hilarious together. I don't think it was a coincidence they signed up to be on reality TV. I seriously think fate brought them together. They genuinely seem like a great couple. Booth and Bristowe got engaged during the season 11 finale of The Bachelorette, and have even gotten their engagement photos done (which I take as a good sign).
3. Evan Bass And Carly Waddell
What started as a real head-scratcher, became an adorable relationship from Bachelor In Paradise. Even with all the drama swirling around the series, their love has remained pure. The season three couple even tied the knot this month.
4. Sean Lowe And Catherine Giudici
Lowe and Giudici are the only couple from The Bachelor ever married, according to Glamour (the rest are from The Bachelorette. Hmm... interesting). They tied the knot on ABC in 2014. Then in 2016, they welcomed their first child, Samuel Thomas. Also, Lowe is low-key the funniest person on Twitter to follow on Bachelor Mondays.
5. Desiree Hartsock  And Chris Siegfried
Not many couples actually get married, but these two made it to the finish line. Harsock and Siegfried keep a surprisingly low profile, and even their wedding wasn't broadcasted on ABC.
6. Ashley Hebert And J.P. Rosenbaum
These two are adorbs. I remember watching the season and wanting Hebert to pick Rosenbaum AND SHE ACTUALLY DID. Well done, Ash. The couple was married in 2012 and have two children.
They were recently on Marriage Boot Camp: Reality Stars where they dished about problems in the bedroom, according to Daily Mail. However, the problem seemed like new parent stuff and nothing too serious.
7. Jason Mesnick And Molly Malaney
This kind of counts. Mesnick actually chose a woman named Melissa Rycroft at the end of Season 13. He then dumped her on After The Final Rose and asked Molly for a second chance. Totally sounds like a TV stunt, right? Apparently not. These two got hitched and have a child together.
8. Trista And Ryan Sutter
This is truly the OG Bachelorette couple. The pair got engaged Season 1 and married on ABC in 2003. The couple now has two children. Way to be the example, Mr. and Mrs. Sutter!
There you have it. These eight couples were able to beat the odds. Keep love alive!