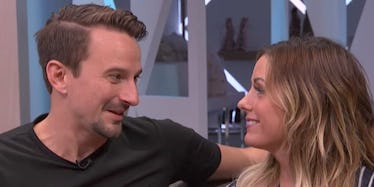 'Bachelor In Paradise' Season 3 Couple Evan Bass & Carly Waddell Tie The Knot
YouTube
Evan Bass and Carly Waddell, Season 3 contestants of Bachelor in Paradise, tied the knot Saturday amid the show's Season 4 cancellation for alleged sexual misconduct.
The Mexico nuptials took place in front of family and friends and is set to air on ABC later this year. The wedding was originally set to air on this season of Bachelor in Paradise, which has been cut short due to allegations of an incident involving contestants Corinne Olympios and DeMario Jackson.
Bass, the quirky "erectile dysfunction specialist" claims he found the perfect stepmother for his three boys, which has brought him "personal redemption."
He released a statement to The Hollywood Reporter, showing love for the show and expressing his feelings about the Season 4 cancellation. He said,
Personal redemption, lifelong friends, and the woman of my dreams are just a few of the many takeaways I found living on set for weeks at the air-condition-less resort. When the news about Paradise production broke the internet, it also broke my heart. While to some it's a silly TV show, for me, it was an experience that changed my life in unimaginable ways. I am troubled thinking about the allegations happening on my favorite beach, and I'm sad that some couples will not have the opportunity to find love in a powerful and unique way.
After the alleged encounter between DeMario and Corinne, production of the reality dating series was shut down. Now, Warner Bros. is investigating the situation. Both parties have released statements, but with two different takes on the situation.
Corinne released a statement to TMZ that read,
I am a victim and have spent the last week trying to make sense of what happened on June 4. Although I have little memory of that night, something bad obviously took place.
DeMario, who has since been fired from his job after the BIP cancellation, released his own statement to E! News that read,
It's unfortunate that my character and family name has been assassinated this past week with false claims and malicious allegations.
Warner Bros. is investigating the situation that unfolded during Season 4's short stint. Though this season ended abruptly, Bass and Waddell were able to find love last year.
The show's executive producer, Mike Fleiss, tweeted his congratulations to the couple. The Season 4 investigation remains ongoing.