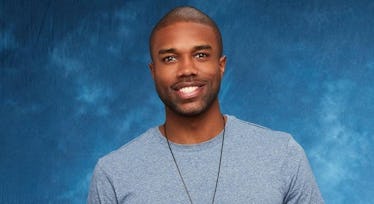 DeMario Reveals He's Been Fired From His Job After 'Bachelor In Paradise' Suspension
ABC
Former Bachelorette contestant DeMario Jackson claims he was fired from his job following the recent scandal surrounding alleged sexual misconduct on the set of Bachelor in Paradise.
According to an interview with Inside Edition, which was confirmed by Entertainment Tonight, Jackson said he lost his job as a recruiting consultant. According to his LinkedIn page, he was working at Micahel Page in Los Angeles.
When asked by Inside Edition if he blames Corinne Olympios for the loss of his job, Jackson reportedly said he doesn't blame anyone but wants access to "the tapes."
Elite Daily reached out to DeMario's team for a comment but did not hear back by the time of publication.
On Wednesday, DeMario said in a statement to E! News,
It's unfortunate that my character and family name has been assassinated this past week with false claims and malicious allegations. I will be taking swift and appropriate legal action until my name is cleared and, per the advice of legal counsel, will be seeking all available remedies entitled to me under the laws.
Also on Wednesday, Corinne said in a statement to TMZ,
I am a victim and have spent the last week trying to make sense of what happened on June 4. Although I have little memory of that night, something bad obviously took place, which I understand is why production on the show has now been suspended and a producer on the show has filed a complaint against the production. As a woman, this is my worst nightmare and it has now become my reality. As I pursue the details and facts surrounding that night and the immediate days after, I have retained a group of professionals to ensure that what happened on June 4 comes to light and I can continue my life, including hiring an attorney to obtain justice and seeking therapy to begin dealing with the physical and emotional trauma stemming from that evening.
Elite Daily reached out to Corinne's team in regard to her legal action and did not hear back by the time of publication.
Production has been completely shut down on the fourth season of the show as parties investigate the alleged incident.
Previously Warner Brothers provided Elite Daily with a statement on the Bachelor in Paradise suspension:
We have become aware of allegations of misconduct on the set of Bachelor in Paradise in Mexico. We have suspended production and we are conducting a thorough investigation of these allegations. Once the investigation is complete, we will take appropriate responsive action.
While nothing has been confirmed, sources suggest there was some sort of sexual encounter between Corinne and DeMario in a pool that made a producer uncomfortable.
Some sources suggest Corrinne may have been too drunk to consent.
No legal action or official charges have been made public yet.