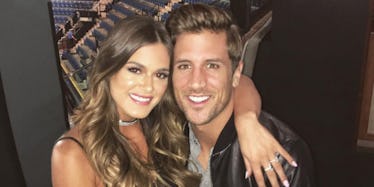 'Bachelorette' JoJo Fletcher Talks Wedding Planning And A Possible TV Special
Instagram
Finding love on a reality TV show isn't my idea of a "happily ever after," but when you consider I only meet people off of dating apps, who am I to judge?
Besides, it doesn't matter where you fall in love as long as you're happy. My parents met in a hayfield and they're going strong.
The former Bachelorette JoJo Fletcher told ET that she can't wait to marry her beau Jordan Rodgers, but she's having fun just planning the event!
The 26-year-old said,
We talk about it all the time. We have all these ideas. I work on my Pinterest board, but we haven't set anything. We're having fun! We're just enjoying it right now. Like, no pressure, no stress. But we're definitely actively talking about what we would want and where.
Wedding Pinterest board?! Reality TV stars truly are just like us.
But will their wedding be televised?
According to Fletcher, she's unsure, but they haven't "ruled anything out."
To be honest, I'd rather receive a real invitation, but watching on TV will do... I guess.
She said,
I think just whenever we get to that point where we're ready to do it, we'll just see where life is at and we'll just play it by ear.
Beyond the Pinterest board, there is one staple that JoJo must have at their wedding: a Chipotle burrito bar.
Nothing says "I will love you for the rest of my life," quite like a burrito from Chipotle. Honestly, buying me Chipotle may just make me happier than someone proposing to me.
One question, JoJo: Is the guac going to cost extra or is it going to be like an open burrito bar? I say go all out and provide that guac for your guests.
Don't expect to get your hands on martial bliss burritos soon though. For now, JoJo and Jordan are just enjoying "dating" off of the show.
Citations: EXCLUSIVE: 'Bachelor' Star Becca Tilley Gushes Over Boyfriend Robert Graham While JoJo Fletcher Shares Update on Wedding Plans (ET)