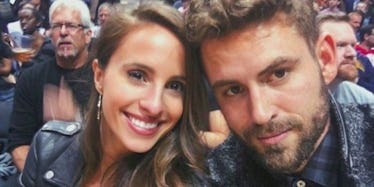 Nick Viall Says It's 'Too Early' To Marry Vanessa, Forgets He Proposed
Instagram
"Bachelor" Nick Viall and his chosen fiancée, Vanessa Grimaldi, apparently have no plans to get married any time soon.
Uh, correct me if I'm wrong, but I kind of thought that was the entire point of ABC's "The Bachelor" — to not be a bachelor anymore.
Considering the show is not filmed live, these two have already been engaged for over four months now.
But on March 27, when Viall was backstage at "Dancing with the Stars," the 36-year-old "Bachelor" told Us Weekly he and Grimaldi weren't even close to planning a wedding.
He said,
No, no. Like Vanessa and I have said, it's too early for us right now. We're still just doing a lot of new things together. We're very open about the fact that we have a long way to go, and we're excited about that journey.
Uh, OK.
I mean, normally I'd agree — people should get to know each other before getting married, and a reality show where the guy is dating 40 other woman isn't the best setting for that.
But for some reason, y'all both agreed to be on the show, look for love and then get married at the end of it.
Remember that whole proposal thing?
If you weren't ready to get married, maybe this whole "find a spouse" reality show thing wasn't for you.
Viall confirmed the two are living in LA while Grimaldi sorts out her visa situation, so at least that's something.
Of course, maybe it's not that surprising they are in no hurry to tie the knot.
As many fans have noticed, the happy couple has looked pretty dang unhappy in so many public appearances.
There's also the selfie they took together where Viall looked like he wanted to die, and his weird, silent reaction to Ellen DeGeneres gently pointing out the couple's chemistry deficiency.
So all and all, it's not looking so good for wedding bells for these two — for now, at least.
Citations: 'Bachelor' Nick Viall Reveals He Has No Wedding Plans With Fiancee Vanessa Grimaldi, Says: 'It's Too Early For Us Right Now' (Us Weekly)