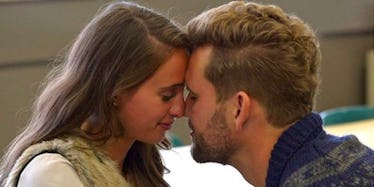 People Think 'Bachelor' Nick Viall Looks Miserable In New Selfie With Vanessa
ABC
Nick Viall's choices in women just totally confuse me. First, he sent THE PERFECT WOMAN – Rachel Lindsay – home on this season of "The Bachelor."
THEN, he picked the woman he fights with the MOST as his future bride, all while leaving poor Raven behind in the dust.
Vanessa Grimaldi's SUPER hot and probably way too good for him anyway, but EVERYONE thought they looked like they hated each other on ABC's "After the Final Rose."
I mean... exhibit A:
But OK, fine: Maybe I'll give them the benefit of the doubt, especially considering being on live TV is a little daunting.
But then, this happened:
Vanessa was in Nick's hometown of Milwaukee, Wisconsin, to catch a basketball game. Obviously, she then did what every self-respecting woman who's trying to prove a point to the world WOULD do in these circumstances: She took a selfie.
And Instagram went wild.
She received dozens of comments talking about how upset Nick looks in the pic, even though she's grinning from ear to ear. And honestly... I've seen the guy look happier.
BUT I DIGRESS: You guys clearly know who I'm obsessed with here.
People can't stop commenting on how terribly upset Nick looks to be with Vanessa, which just goes to show he has learned NOTHING from his four times on TV.
And these commenters had some CHOICE WORDS for him.
Clearly, this guy thinks Nick just looks "miserable."
One commenter even went so far as to say they didn't even look "like a couple."
This die-hard Vanessa fan – who clearly has been watching something different from the rest of us all season – thinks Nick should be smiling way more than Vanessa is.
Yikes... What allegations.
How much do you think Nick hates his life right now?
Who is "Nik"?
This commenter is quite the optimist, and suggests Nick LOVES Vanessa... He's just bored of the game.
But you are wrong, eternal optimist.
Seriously, you guys... I just can't get on board with this couple. It might just have something to do with their bickering ALL DAMN SEASON LONG.