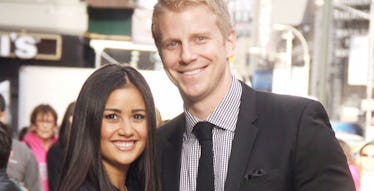 Catherine Lowe Just Posted A Pic Of Her Baby, And He Looks Just like Sean
REX/Shutterstock
If you're a big fan of "The Bachelor" or "The Bachelorette," I'm sure you watched Sean Lowe's season when he gave the final rose to Catherine Giudici.
Since their proposal, the two have been one of the cutest "Bachelor" couples in history.
Their wedding was aired on TV, and Sean cried his eyes out as soon as he saw his bride walk down the aisle. It was a really beautiful moment.
Here, check out the picture of "The Bachelor" couple below. AREN'T THEY THE CUTEST COUPLE IN THE WORLD?
Get it together, Sean!
This past year, Catherine Giudici Lowe became pregnant with their first child. Just last week, she gave birth to a beautiful baby boy and named him Samuel Thomas.
But now Catherine just added a second photo of her baby, and he looks just like Sean Lowe.
Seriously, the resemblance is uncanny. Sean posted a photo of him holding baby Samuel, as well.
Not only are Sean and Catherine the cutest couple ever, they're the cutest parents now, too.
I think these lovebirds may be my favorite couple in the history of the show. It just shows you anything can happen, and it's totally possible to find true love on reality TV.
So uh, someone sign me up. I want that final rose.