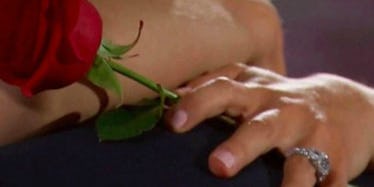 Engagement Ring 'Bachelor' Nick Viall Gave Vanessa Costs More Than Your Salary
ABC
It's official: "Bachelor" Nick Viall and Vanessa Grimaldi are engaged.
It all went down during Monday night's finale, when the 36-year-old got down on one knee and asked the 29-year-old special education teacher to spend the rest of her life with him.
Sorry, Raven, but it appears Nick Viall prefers the north over the south.
In any event, let's focus on Viall's proposal, specifically the rock he put on Vanessa Grimaldi's finger.
It's hard to tell much from the above photo, but according to Brides, the Neil Lane engagement ring the 36-year-old put on the Quebec native's finger is worth an estimated $100,000!
That's right, kids, this diamond is reportedly four carats with a large center stone and a pavé halo.
Speaking on the ring, a source told E! News the bling has a price tag of between $92,000 and $100,000.
Adding to the $100,000 engagement ring Vanessa Grimaldi is now rocking, another source said,
It's a traditional ring with an old-fashioned feel. It's got an old soul. It's classic and elegant. He chose it because that's what he thinks of her.
OK, Nick!
These two certainly look like they're in love, and knowing what we do now about the ring, it's not hard to see why!
To caption the above Instagram photo, Nick Viall wrote,
Holy shit she said yes!! It's been a journey Bachelor National!! @vanessagrimaldi30 I love you!! #thebachelor
Speaking on what he was thinking before he proposed to Vanessa, Viall told People,
While I certainly had my fears [of being the Bachelor], I still followed my heart and put myself at risk. I'm glad I did. I was very nervous. It was a very long day and it wasn't too long after saying goodbye to Raven. So, there were emotions from that. I think in that world the engagement day is not your ideal day just because it's 'The Bachelor.'
Speaking on what was going through his head before he popped the question, Viall said,
I think most people when they get engaged there's a lot of great, exciting anticipation and for me that was a very emotional roller coaster. Once I saw Vanessa, I kind of calmed my nerves. For me it was that moment where I had clarity. It was a calming feeling of knowing I made the right decision. It was all worth it! All the tears and all the ups and downs, it kind of just felt like, finally I got to the place that I hoped to get to.
Congratulations, you guys!
Citations: Nick Viall's Engaged! All About the $100,000 Engagement Ring From The Bachelor Finale (Brides)