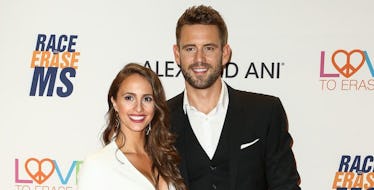 How Likely It Is That Nick And Vanessa Will Actually Get Married, According To Experts
REX/Shutterstock
Though most Bachelor fans are still sobbing over the somewhat expected split between Bachelor Ben Higgins and chosen fiancée, Lauren Bushnell, it's time we shift our attention to the reigning reality TV pair: Nick Viall and Vanessa Grimaldi.
People have speculated that the Bachelor season 21 suitor hasn't really seemed super pleased when out in public with Grimaldi, and he even told Us Weekly there are no immediate plans for a wedding.
Love will always prevail, but in this case, a lot of people aren't sure there's strong, existing love between Viall and Grimaldi in the first place.
To help determine whether or not Nick and Vanessa will actually get married, Elite Daily spoke with a few different experts who weighed in on what to make of all this on-air romance.
As expected, most are less than optimistic.
When it comes to finding love, it's especially difficult for it to feel authentic when you're in a time crunch. For shows like The Bachelor, you're pressured to get to know someone (and fall in love with them) in just a few short weeks, which isn't exactly the most realistic.
Plus, you're on a goddamn TV show, while all the aspects of your actual life are put on hold.
"When you are in a vacation-like setting that doesn't deal with money, job stress, balancing friends and family, once you go back into the 'real' world, you might find that your needs are very different," says matchmaking and dating expert Stef Safran.
And once you step back into the real world, it's important to find your footing. Safran believes the Bachelor and Bachelorette couples who were the most successful post-filming are the ones who kept themselves out of the limelight.
"If you can go back to a normal job and share similar goals about life after reality TV, then it seems you have a better shot at making it beyond the cameras," she says.
Lori Salkin, SawYouatSinai.com Senior Matchmaker and Dating Coach, also believes couples crafted on a television program are destined for failure and that all the outside media influence can change how your relationship operates.
"In reality, no one tweets, or posts on Facebook or Instagram every single thing they do with their boyfriend or girlfriend in a relationship," Salkin says. "In reality, people avoid controversy and drama, but for TV that's what gets the ratings. Real relationships are created behind closed doors and those are the ones who thrive."
But on the other hand, some could argue that Vanessa did make it to the end for a reason.
While plenty of fans were #TeamRaven through and through, others, like matchmaker and dating coach/expert Julia Bekker, found Nick and Vanessa's love to appear pretty "real." Opposites are supposed to attract, after all.
"I think their differences can bring strength to one another and their relationship," Bekker tells Elite Daily. "Vanessa is vulnerable and cautious, emotionally, and Nick has a way of giving her the validation she needs to feel safe and reassured. Nick has a pretty laid back personality, and Vanessa seems to have a way of motivating him and lighting a spark under his butt."
In order for them to truly last, it looks like they need to step out of their comfort zones, live their lives out of the spotlight, and grow up a little bit.
But Nick's continued television exposure, courtesy of his time spent on Dancing With the Stars and the fact that Nick and Vanessa don't seem the happiest whenever they're out in public together may not bode well when it comes to wedding bells.
They have a lot of odds to overcome if they'd like to successfully make it down the aisle.
I wish 'em the very best.