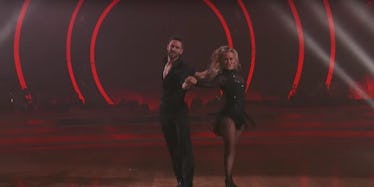 Twitter Was Surprisingly Impressed With Nick Viall's First 'DWTS' Performance
ABC
Nick Viall on "The Bachelor" is boring, whiny and no fun to watch, according to pretty much everyone.
But Nick Viall on "Dancing with the Stars" is almost... interesting? Entertaining? Dynamic? Actually a pretty good dancer?
I know. I'm just as shocked to be writing this as I assume you are reading it.
Of course, maybe it's too early to make a judgement call — season 24 of "Dancing with the Stars" only just premiered, after all.
But so far, fans are liking what they are seeing from the former "Bachelor."
He had his first dance with his partner, professional dancer Peta Murgatroyd, on March 20.
Before Viall and Murgatroyd took the dance floor, he ran off stage to hand "Dancing with the Stars" judge Bruno Tonioli a single red rose, "Bachelor" style.
I guess because some things never change.
Don't worry, his fiancée and "Bachelor" winner Vanessa Grimaldi was in the crowd and seemed totally fine with it.
Then the two were off dancing their first dance of the season, a cha cha. And like... it was really good?
In the end, judges Carrie Ann Inaba, Len Goodman, Julianne Hough and Bruno Tonioli gave the pair's first dance a 24/40. Not bad, not bad!
I know! I can't believe Nick is actually OK at things either!
But if you don't trust me, take Twitter's word for it.
And not only was Nick's dancing pretty good, he was also surprisingly charismatic and funny?
Why couldn't he be that interesting and likable on "The Bachelor?"
So yeah, even though some people were skeptical to see Viall move so quickly from one ABC reality show to another (Will my Monday nights ever be free of Nick Viall again?), this season of "Dancing with the Stars" is already shaping up to be way more entertaining "The Bachelor."
"Dancing with the Stars" is on Mondays at 8pm on ABC.