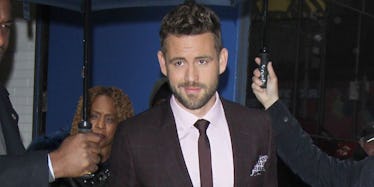 'Bachelor' Nick Viall Will Be On 'DWTS,' Proves Reality TV Is His One True Love
REX/Shutterstock
If you thought you'd finally be free of seeing Nick Viall's face after the season finale of "The Bachelor," think again: He's just been confirmed for "Dancing with the Stars."
Yep, according to Us Weekly, the 36-year-old current Bachelor is confirmed to compete in season 24 of "Dancing with the Stars" alongside Heather Morris (AKA Brittany Pierce from "Glee").
So this is Nick Viall's fourth reality television show in two years time. He had "The Bachelorette" in 2015, "Bachelor in Paradise" in 2016 and "The Bachelor" in 2017, of course.
Now he's adding "Dancing with the Stars" on top of that?
I'm just going to come out and say it: I think Nick Viall is addicted to reality TV, and not in the way everyone is addicted to reality TV.
No, Nick Viall is addicted to participating in reality TV, which is far worse. Nick, buddy, you ever try living your life without the cameras?
We haven't really seen much of his dancing, either, unless you count that time he got on stage during a Backstreet Boys concert.
Other faces you can expect to see on the upcoming "Dancing with the Stars" season include figure skater Nancy Kerrigan, "The A-Team's" Mr. T, Olympic gymnast Simone Biles and "The Real Housewives of Beverly Hills" housewife Erika Girardi.
The full cast will be revealed tomorrow, March 1, on "Good Morning America."
But before he goes off and dances with the stars, Nick still has two more women to dump on "The Bachelor."
Monday night's episode saw the end of Corinne (finally), which obviously she was not very happy about.
Now Corinne is talking about having her own reality show, telling E! News,
America totally wants it, I hear it all the time. There is a lot of talk about, I'm going to say a lot of networks are interested. Obviously, my loyalty is here with ABC and things like that. So there's still a lot of stuff to be worked out, but we'll see what comes in the future.
We really just can't escape this "Bachelor" season, can we?
Season 24 of "Dancing with the Stars" will premiere on ABC Monday, March 20 at 8 pm.
Citations: Bachelor Nick Viall, Glee's Heather Morris to Compete on 'Dancing With the Stars' Season 24 (Us Weekly)