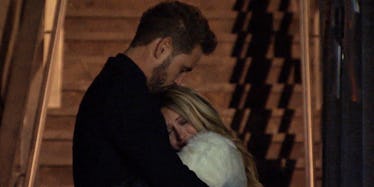 'Bachelor' Star Corinne Says A Reality Show Is In The Works: 'America Wants It'
ABC
Monday night, "The Bachelor" Nick Viall shocked the world when he decided not to give a rose to Corinne Olympios, thus ending her quest to find love.
What a wild ride it's been, though, right?
I mean, we'll always have the memories of Corinne's whipped cream boobs, topless photo shoot, bouncy house antics and, of course, her naps.
* cries one tear out of left eye *
Dry your eyes, though, because it appears we might not be done watching Corinne Olympios grace our television screens on a weekly basis.
At the "Women Tell All" taping, Nick Viall claimed Corinne will be a contestant on "Bachelor in Paradise"!
He said,
She will be 'Paradise.' Corinne, please do 'Paradise'!
However, speaking with E! News on the matter, Corinne all but squashed the notion she'll be on "Bachelor in Paradise."
She said,
I don't think so. First of all, I wasn't even asked yet, so let's not jump the gun yet, so I don't know. It's too early to tell right now.
So, how will we still see Corinne on television?
Well, according to everyone's favorite "Bachelor" villain herself, a reality show about Corinne and her family is in the works and could go into production in the near future!
Speaking on a possible reality show, Corinne told E! News,
I think America is interested in me having a reality TV show with my family, my family is awesome, as you all could tell on my hometown date. America totally wants it, I hear it all the time. There is a lot of talk about, I'm going to say a lot of networks are interested. Obviously, my loyalty is here with ABC and things like that. So there's still a lot of stuff to be worked out, but we'll see what comes in the future.
This show would be so lit! Can you just imagine Raquel running around slinging cheese pasta everywhere?!?!
Nick Viall's former flame also dished about the possibility she'll one day be "The Bachelorette."
She said,
I would've loved to be the Bachelorette and I would always love to be the Bachelorette. If that happened in the future, that'd obviously be a great honor.
Corinne, please make one of these things a reality.
Citations: The Bachelor's Corinne Olympios Is Convinced You Want Her to Get Her Own Reality Show (and It's Already in the Works) (E! News)