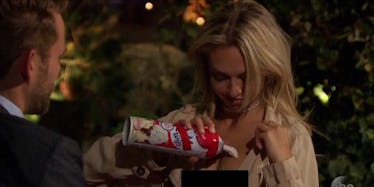 'The Bachelor' Nick Viall Licked Corinne's Boobs And The Women Were Pissed
ABC
On Monday night's episode of ABC's "The Bachelor," shit got real.
Sure, The Backstreet Boys made a cameo and taught the women how to dance, but that was far from the greatest performance on the most recent episode of "The Bachelor."
See, before Nick Viall and some of the women danced on stage with The Backstreet Boys, they danced around the increasingly uncomfortable actions of the sexual spark plug known as Corinne.
If you're unaware, so far, Nick Viall's season of "The Bachelor" has been all about the 24-year-old business owner.
Corinne has already rubbed her bare boobs on Nick in a pool...
...so, she had to one-up herself Monday night by enticing Nick to lick whipped cream off her boobs.
Nick, being the sane dude he is, went right in for his dessert, but his actions left a bad taste in pretty much every other woman's mouth.
Corinne, you savage.
The women on the show have become increasingly upset with the actions of Corinne, with some like Vanessa even going as far as to tell Nick Viall she doesn't approve.
After Nick licked whipped cream off Corinne's boobs, he took Vanessa on her first one-on-one date.
For their activity, Nick took Vanessa on a plane to experience zero gravity, which was a great idea until the 29-year-old special education teacher puked all over the place.
Nick, to his credit, comforted the Montreal native and even kissed her after she threw up.
Back to Corinne, though, because, like I said, this blonde bombshell is the real star of "The Bachelor."
The 24-year-old was so exhausted from her whipped cream escapade, she actually ended up sleeping through the rose ceremony!
After getting her beauty rest in, the Miami native took things to another level at the pool party.
Corinne lured Nick into an inflatable bouncy castle, where she straddled him like a drunk college kid riding a mechanical bull.
Naturally, contestants like Raven were pretty pissed as a result.
The southern charmer straight up told "The Bachelor" he's making a huge mistake by keeping Corinne around.
One final takeaway from Monday night's show has to be Jasmine's reaction after finding out Corinne has a nanny.
Like, this woman really couldn't handle this information, and I definitely can't blame her.
"The Bachelor" continues to be the greatest show on television.
If you disagree, I strongly urge you to settle in next Monday night and prepare to lose yourself in a world of whip cream, boobs and puke.
Citations: 'The Bachelor': Corinne Naps, Another Girl Leaves Mid-Date and the Backstreet Boys Weigh in On Nick's Suitors (Entertainment Tonight)