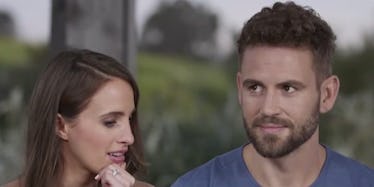 Vanessa From 'The Bachelor' Is Jealous Of Nick Viall's Fame: 'It's Taking A Toll'
YouTube
Looks like there's trouble in paradise.
We need to talk about "Bachelor" Nick Viall and his fiancée, Vanessa Grimaldi, and how the two appear to be moving in very different directions right now.
See, it's one thing for the 36-year-old Viall and the 29-year-old Grimaldi to look miserable in public together or fail miserably at "The Newlywed Game," but it's quite another for them to be jealous of one another.
Apparently, Nick Viall's fame, including featuring on this season of "Dancing with the Stars," is a bit too much for Vanessa Grimaldi to handle.
A source close to the couple said,
[Vanessa is] having a hard time.
That same source added,
Nick rehearses a lot. They fight about it.
According to Us Weekly, the 29-year-old special education teacher moved from Canada to Los Angeles after Viall proposed, but it looks like the couple have more than a few things to work on before they even think about setting a wedding date.
Speaking on how Nick's fame is rubbing Vanessa the wrong way, the source also said,
Vanessa's not used to the attention being mostly on Nick. It's taking a toll.
Nick Viall himself recently opened up about whether or not he and his fiancée have started planning their dream wedding.
The 36-year-old Wisconsin native said,
No, no. Like Vanessa and I have said, it's too early for us right now. We're still just doing a lot of new things together.
That doesn't sound like a dude whose sole focus is marrying the woman he recently proposed to.
Speaking on their living situation, Viall said,
She's living with me. But obviously we're still working through the visa stuff, so she may have to pop back to Montreal at some point. While we're in LA, we're living together.
Apparently, Grimaldi has been making moves of her own.
According to DailyMail.com, the 29-year-old is looking for acting gigs in LA and has acquired an agent and a manager.
Speaking on her career moves, a source said,
She has been going on acting auditions in LA. She always dreamed of being a huge actress. At this point she doesn't even care about her relationship with Nick. Her main focus is landing a sitcom or a feature film. She is taking full advantage of her time in LA. She sees herself as the next Julia Roberts.
Holy hell!
I guess we'll just have to wait and see how things play out for Nick and Vanessa.
Citations: Vanessa Grimaldi Is Struggling With Being Out of the Spotlight as Nick Viall Shines on 'Dancing With the Stars' (Us Weekly), Trouble already? Vanessa Grimaldi 'jealous of attention Nick Viall gets on DWTS' and has 'landed an agent to get acting jobs for more fame' (DailMail.com)