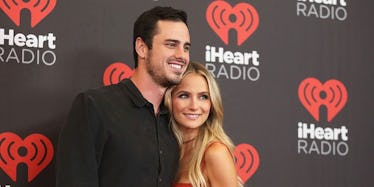 Lauren Bushnell Gets Candid About Ben Higgins Breakup: "It Wasn't There Anymore"
Isaac Brekken/Getty Images for iHeartMedia
"Lauren, the tribe has spoken."
Wait, wrong reality show.
"Lauren, please give back your rose."
Closer.
Lauren Bushnell and Ben Higgins of The Bachelor officially called their relationship off in May after a rocky engagement.
At the end of Ben's season, he infamously told his final two women (Lauren and JoJo Fletcher) he loved them both, before offering Lauren a ring.
This, kind of understandably, made it difficult for Lauren to trust their relationship in the weeks and months after the show stopped shooting.
Lauren had told People in a previous interview,
There are so many weird elements to being in a relationship after 'The Bachelor.' We've gotten in arguments like any other couple, but about some things that other couples wouldn't have to fight about, like the fact that we met when he was dating other women. You can say that's what I signed up for, but it's still real life and it's still hard.
Now, she is getting candid once again.
People reports in the weeks after their breakup, Lauren admitted the two "of course" still had a physical connection, but the relationship was ultimately lacking in the emotional and romantic departments.
She said, "It was more so the emotional connection that fizzled."
Ugh. Yeah. Time to go.
Unfortunately, it takes more than a physical connection to keep a relationship alive.
Lauren explained it was during the couple's filming of their spin-off series, Happily Ever After?, that their sustainability first began to flicker.
I remember during filming Happily Ever After?, I was so stressed out, we couldn't even communicate with one another when we were filming ... We were just stressed and tired physically ... Emotionally, I just felt like it wasn't there anymore.
Ben echoed back this sentiment on an episode of his podcast, Ben and Ashley: Almost Famous, which he co-hosts with fellow Bachelor alum Ashley Iaconetti, saying,
I think, mutually, Lauren and I saw that life was getting more difficult ... I would say the joy that we felt toward our relationship at the beginning was — for some reason — slipping away, and we were both working very hard to bring that joy back. And it just never seemed to get there. So it was a long time coming, but it wasn't necessarily like we dragged it out.
Wow. Nothing like "dragging" a relationship out.
Good luck, Ben and Lauren. You guys are going to be just fine.
Citations: The Bachelor's Ben Higgins and Lauren Bushnell Split (People), Lauren Bushnell & Ben Higgins' Physical Chemistry Never Went Away, but 'the Emotional Connection Fizzled' (People)