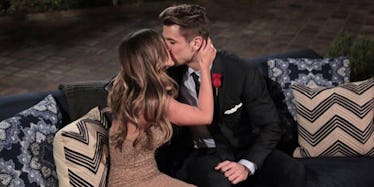 Jordan Rodgers Posts Sweet Message On One Year Anniversary Of Meeting JoJo
ABC
One year and one day ago, Jordan Rodgers met JoJo Fletcher... along with 24 others guys, but who's counting?
On Thursday, March 16, Rodgers took to Instagram to share an adorable message about meeting his future bride for the first time on "The Bachelorette."
The football analyst shared a screenshot from season 12 of the reality TV show and wrote,
Exactly one year ago today I met the rest of my life -- if I could do it all over again I would've kissed her straight out of the limo! (...and used a bit more hairspray) Love this one.
The couple, who have been publicly engaged since the finale that aired in August 2016, moved to Texas together -- but they're in no rush to tie the knot.
At the moment, they're enjoying dating each other, away from cameras and away from a two dozen other men trying to win her heart.
JoJo said,
We're just enjoying this time. We're taking it slow. We finally have the whole house furnished, so we're not sitting on the floor anymore. He has his work that he does; I have mine. We have this great balance, but life's fun. It's really good. It's great… We're settling into the normal life with my dog, and we take walks, and, I mean, it's good. I love it.
Meanwhile, the man that JoJo shut down before he could propose, Robby Hayes, is back in the spotlight after this season's "Bachelor," Nick Viall, picked the same exact ring he planned on giving to JoJo.
Neil Lane, the ring designer for the show, told People,
I bring six rings and over the years, over the 9 years, some are the same, some have changed settings or are re-designed, and some are totally new. The most important thing is for a ring to speak to the particular man and to the woman he is in love with. If a ring doesn't speak to one person, then it wasn't meant to be. If that particular ring wasn't meant to find a home with JoJo, but rather spoke to Nick and Vanessa, then that's the way it should be. It's found its home.
Citations: Jordan Rodgers Celebrates 1-Year Anniversary of Meeting JoJo Fletcher on 'The Bachelorette' (US Magazine)