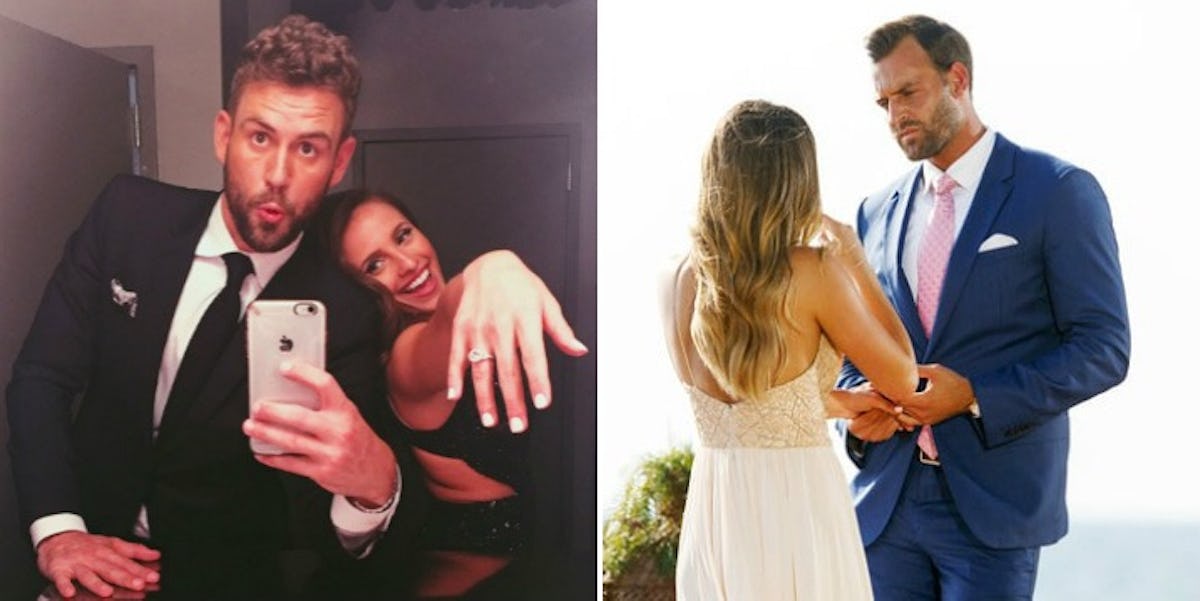 'Bachelor' Nick Viall's Engagement Ring For Vanessa Was Almost JoJo Fletcher's
Instagram/ABC
Nick Viall, who seemed doomed be a bachelor forever after losing the girl on the "Bachelorette" twice and again on "Bachelor in Paradise," finally proposed to Vanessa Grimaldi.
And the ring, designed by Neil Lane, was no joke -- we're talking a 3.75-carat, round-cut center diamond, surrounded by smaller diamonds... 164 round-cut diamonds in all.
This is a lot. Who needs that many diamonds? Calm down. Save some shiny stones for the rest of us, Grimaldi.
Vanessa called the ring "big" like "[her] personality."
Nick told People how he knew how to pick the one of a kind ring,
I just closed my eyes and just envisioned her beautiful face. I knew immediately which one was perfect for her.
EXCEPT, IS IT ONE OF A KIND? IS IT PERFECT JUST FOR VANESSA?
But hawk-eyed "Bachelor" fans may have spotted that ring somewhere before...
The ring is the same one that Robby Hayes picked to propose to JoJo Fletcher back on Season 12 of "The Bachelorette."
SHOCK. APPALL. Also, these things happen.
Neil Lane told People,
I bring six rings and over the years, over the 9 years, some are the same, some have changed settings or are re-designed, and some are totally new. The most important thing is for a ring to speak to the particular man and to the woman he is in love with. If a ring doesn't speak to one person, then it wasn't meant to be. If that particular ring wasn't meant to find a home with JoJo, but rather spoke to Nick and Vanessa, then that's the way it should be. It's found its home.
If it is any consolation, JoJo never saw the ring. She stopped Robby before he could propose, and she chose Jordan Rodgers to be her sweet boo thang for life.
Rodgers presented her with a 3-carat oval-shaped diamond, with 155 smaller round diamonds on the band. Lane calls JoJo's ring "elegant simplicity."
Citations: Diamond Déjà Vu! Nick Viall Proposed to Vanessa Grimaldi with the Same Engagement Ring Robby Planned to Give JoJo on The Bachelorette (People)