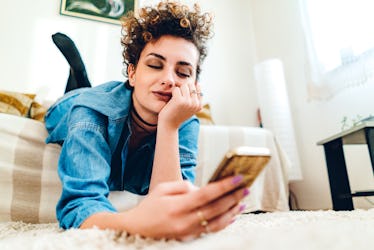 10 Flirty Messages To Send When You're Sliding Into Someone's DMs
Who knows where the conversation could lead?
urbazon/E+/Getty Images
The modern world of virtual and IRL dating has gotten so complicated that it can be hard to know the best time to make a move. Whether you've been eyeing a certain cutie in the office for months or have been following someone on social media for a while and want to meet in person, sending a direct message via social media, be it Instagram, Twitter, or TikTok, is actually a super smart and very normal play. So, if you're ready to take the next step, here are some tactics and messages to send if you want to slide into someone's DMs.
Shooting your shot and sending someone a direct message doesn't have to be a shady act. In fact, knowing how to slide into DMs properly can start new friendships, launch romantic relationships, and help you get to know people better. Let's say you've been following this certain hottie since college because you had a group project together once. You haven't talked since, but both moved to the same city after graduating. Curious about the possibility of dating? Send a DM! You never know what could happen. The important thing is to go into the DMs with an open mind and a positive outlook, as online dating coach Perri Schneider tells Elite Daily.
"Think of reaching out to someone via DM almost like networking," she says. "I often tell clients that even bad dates could lead to a great friendship connection, where they introduce you to their roommate who you end up falling in love with. We never know what has potential. It's important to keep your head on straight and not worry too much about what the message will result in."
Sending someone a DM can serve as a great icebreaker, make it easier to start talking over text, and then maybe even lead to an IRL date together. So don't knock it until you try it — and definitely try it. If you use one or more of these 10 DM sliding strategies, you'll be sure to heat things up.
Messaging someone over DM is actually a great way to get the ball rolling, so don't be afraid to slide right in there. The worst that can happen is they don't respond — and that's not the end of the world. "If they don't respond, leave it be," says Schneider. "Do not get into scary territory and double or triple message." You don't want to be that person.
As with most aspects of dating, it's best to cut your losses and move on to brighter prospects. The ultimate goal is to find someone who is just as stoked to be talking to you as you are with them. Now, DM slide away!
Experts:
Perri Schneider, online dating coach
Celina Bond, dating and relationship coach
Shan Boodram, sexologist and intimacy expert
This article was originally published on