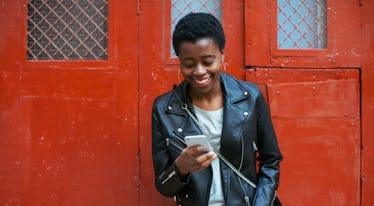 Here's A Foolproof Way To Slide Into Your Crush's DMs
Go ahead and shoot your shot.
Having a crush on a person you follow on social media is daunting. Or rather, traversing the virtual divide between your screens — AKA shooting your shot — is daunting. And, sure, we can't all have the confidence of Lizzo DMing Chris Evans while tipsy on Instagram. But the good news is there are plenty of easy, no-stress tips for how to slide into someone's DMs that can help you achieve foolproof flirtation. If you're concerned about how to shoot your shot on Instagram or you feel like it's too invasive or creepy, don't worry too much — it's a fairly mainstream way to connect with someone and it might even be Gen Z's preferred way to flirt.
Online dating expert Julie Spira shared with Elite Daily that she has encountered plenty of couples who established an initial connection in the DMs. "Sliding into DMs actually is a part of many people's dating strategy, and there is a definite fine art to it," she says. The key is to keep things casual, play it cool, and don't get too forward.
Alessandra Conti, personal matchmaker at Matchmakers In The City, also tells Elite Daily that sliding into people's DMs is not anywhere near as taboo as it used to be, and it can actually be a good way to meet new people.
"With the way that our culture changes so quickly — even dating apps, a few years ago, [they] were taboo and now they're so normal," Conti says. "That said, there are definitely different ways of going about sliding into the DMs, and some ways [can be] incredibly shady."
So, to avoid being shady — and to give yourself a real chance at making a connection with someone through their DMs — here's what you need to know before you make any sort of moves.
This article was originally published on