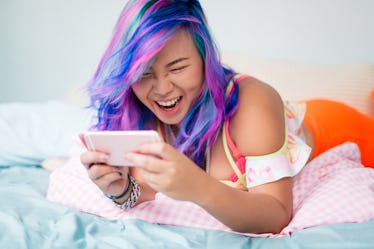 FYI, Here's How Long You Should Text Before A First Date
It's not as long as you might think.
If you've ever watched an episode of Catfish, you know how treacherous the texting waters can be. It's so easy to fall into that gray area between meeting online and meeting up IRL. And once you start to build a rapport over texting, it can feel even more intimidating to meet face-to-face, because what if that person you've been texting with isn't who you thought you were? While there's no right answer for how long to text before a first date, it is important to do some texting before a meet-up, both for safety reasons and to check for deal-breakers.
When it comes to texting before a first date, my tactic was always to move slowly and really get to know the person before moving on to setting up an actual date. Oftentimes, either the conversation would go stale or — when we did finally meet up in person — there was an inevitable letdown. I figured that was just how online dating went. Turns out, I was just doing it all wrong. I reached out to online dating experts to get the scoop on meeting someone for the first time after texting, and the timeline between digital and real-life contact is probably shorter than you think.
Spira puts it best when she says, "If you feel online chemistry, why wait? Schedule the date to see how you feel when you meet. If you don't, maybe someone else will, and life is too short to be filled with regrets." So go ahead and make a date — you can't just text with your crush forever.
Sources:
Anita Chlipala, dating expert and licensed marriage and family therapist
Julie Spira, online dating expert
Damona Hoffman, online dating coach and relationship expert
Editor's Note: This story has been updated by Elite Daily Staff.
This article was originally published on