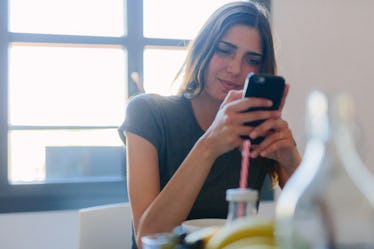 A Dating Expert Reveals How Long Should You Wait To Text Back After A First Date
I'm embarrassed to admit that I had no idea how long to wait to text after a first date until a few months ago. Before then, I'd only ever been on dates with people I was already on friendly terms with, so it felt natural to keep the text conversation going soon after the date. It wasn't something I even thought about. But about 30 minutes after getting home from my first date with a practical stranger — we matched on Tinder a few days before our date — I wondered what came next.
Admittedly, I had a really great time. He was funny and interesting (although noticeably shy, which explains how little we texted leading up to the date), so I wasn't opposed to seeing him again.
"Should I text him to say I had fun?" I thought. "Is it too soon? Is that weird? OMG, how do people this?" I could feel myself self-destructing as my mind raced through 100 different ways I would inevitably make a fool of myself.
To my surprise, I woke up the next day to a simple but sweet text from my date that really made me question, well... everything. I mean, if I couldn't come up with a quick, "Hey, last night was fun. We should check out that coffee place you mentioned next week if you're not busy," then what was I doing in my day job as a dating writer?
The truth is, it's OK to have post-date jitters, even if you write about dating for a living. I spoke with relationship expert and life coach Diana Dorell about the best ways to follow up via text after a date.
This article was originally published on