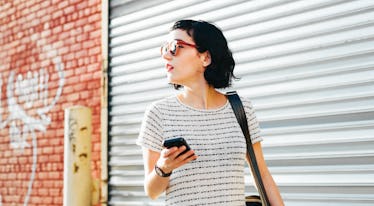 5 Red Flags To Look For When Someone Slides Into Your DMs If You're Looking For Real Love
Meeting people can feel like such a big challenge sometimes, so when someone slides into your DMs — especially if they're exactly your type — it can be really exciting. It's like someone cute just made their way to you without you even trying, and what's better than that, right?
DM sliding is super commonplace now, much in the same way dating apps have gone from taboo to totally normal and used by most people. But not every DM slide is the same. While some people might slide into your DMs because they're interested in getting to know you and potentially seriously dating you, some are sent with the intention of hooking up. And both of those things are totally fine! But, if you're looking for the former (as in, you want a serious relationship), you have to know what you're getting yourself into.
Before you get too wrapped up in conversation, there are some signs to consider. Does their message convey respect and a genuine interest in you as a person? Does their profile indicate that they're single, or do things seem a little shady? And if you're already talking, are they evasive about meeting up? These are all potential red flags that could show that the person pursuing you isn't actually interested in something serious. So, here's what you need to look out for.