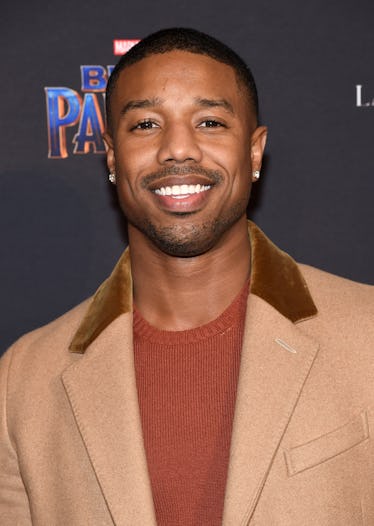 This Woman Slid Into Michael B. Jordan's DMs & It Actually Worked
Jamie McCarthy/Getty Images Entertainment/Getty Images
I've never understood the whole sliding into DMs thing. Maybe it's because the only people who slide into my DMs are club promoters or sleazy dudes sending me unsolicited dick pics. Or maybe it's because the only time I ever slid into DMs was to ask a fashion designer I love when her new collection would be out and (shocker) I never got a response. But apparently not everyone is having as miserable of a time DMing as I am. Apparently, 21-year-old Sylvia Wilson slid into Michael B. Jordan's DMs and — get this — HE RESPONDED. Yes, that's right, people. It's time to have a little faith in humanity.
So what's the back story here? Allow me to explain. Wilson is a Junior at Temple University where she heard everyone's celebrity crush Michael B. Jordan was doing some filming. That's when, according to BuzzFeed, she started making jokes about DMing him for a picture. Because, DUH, HAVE YOU SEEN HIM? He's definitely not difficult to look at.
Eventually, the jokes turned into reality and Wilson actually decided to pull the trigger on sending the DM. What sort of message does one send when sliding into the DMs of one of the hottest celebrities on the planet right now, you ask? Wilson decided to go with something simple by offering to buy him a smoothie. "It was hot, and I didn't think it'd be appropriate to ask to buy him a drink, so I opted for a smoothie," she explained to BuzzFeed.
According to the screenshots on BuzzFeed, their convo went like this:
Sylvia Wilson: Can I buy you a smoothie!!!
Michael B. Jordan: You don't have to buy me anything! You can get a pic
Ummm, I don't know about you but I am SWOONING. Can you imagine the somersaults that must have been going on in her stomach when her phone screen lit up with a DM from Michael B. Jordan?! She admitted to BuzzFeed that she was "fangirling so bad" when he messaged her and, like, can we blame her?
Once Jordan agreed to take a picture with her, it was time to talk details. Based on the screenshots given to BuzzFeed, that played out like this:
Michael B. Jordan: So like around 2
Sylvia Wilson: Will security try and fight us or something if we come through.. 🙃 [upside down smiley emoji]
(Fair question, Sylvia)
Michael B. Jordan: Lmao they will let me know
Sylvia Wilson: Okay we're about to come down now
(OMG, IT'S HAPPENING)
Sylvia Wilson: The security trying to play us 🙄 [rolling eye emoji] lol
Michael B. Jordan: All good I'm walking over
COULD HE BE ANY NICER? Oh wait. He could. Because then he actually came over and let Wilson and her friends take pictures with him.
"He was so sweet and nice," Wilson told BuzzFeed. "He was more than happy to take pictures with me and my friends that came with me!"
Wilson turned to Twitter to post the pictures along with the caption, "so I slid in his DM's, and then this happened." Since posting her tweet has gone viral garnering over 100K likes.
Obviously everyone on Twitter was absolutely inspired and loving it. From here on out, fearlessly sliding into someone's DMs and getting a pic with them is called "pulling a Sylvia."
Some people are even sliding into Jordan's DMs to let him know they're rooting for him and Wilson as a couple.
SO. CUTE.
OH, and, in case you were wondering what he smells like, don't worry. Wilson's got you covered. "He smelled like Mahogany Teakwood from Bath & Body Works but better," she told BuzzFeed.
I mean, are any of us really surprised that he smells as amazing as he looks? I don't know about you but I'm definitely not.
Check out the "Best of Elite Daily" stream in the Bustle App for more stories just like this!