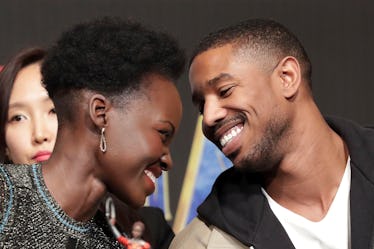 The Internet Is Shipping Michael B. Jordan & Lupita Nyong'o & We Are So Here For It
Han Myung-Gu/Getty Images Entertainment/Getty Images
If you haven't yet seen Black Panter — oh no, baby, what is you doing? The movie has definitely lived up to the hype. Earning a whopping $218 million over the four-day holiday weekend since its release on Feb. 16 proves that fans are here for Black Panther and all the cast. You know what else fans are investing their time in? The potential – could be, hopefully is! –relationship between Michael B. Jordan and Lupita Nyong'o. The co-stars have been bubbling up some dating rumors that fans desperately want to be true. Photos of Michael B. Jordan and Lupita Nyong'o prove that fans may be on to something.
Co-stars in movies (especially big, giant, fat successful movies) spend a lot of time together, so their closeness comes as no surprise. However, Jordan and Nyong'o seem extra flirty and look stunningly gorgeous standing next to each other. I mean, it's amazing the earth doesn't implode when Jordan and Nyong'o enter a room together. Lupita and Michael, can you please just be a real thing? Am I asking too much?
Rumors of a potential romance started popping up when Nyong'o and Jordan got playful on social media. The background of what's been happening all started while filming Black Panther. Apparently, Jordan lost some sort of bet to Nyong'o which resulted in him having to do push-ups at her command (or "on call" as Nyong'o says in her tweets). Honestly, I'm not complaining. Jordan popping up in my Twitter feed doing push-ups is a day maker.
Nyong'o has had Jordan dropping to give her push-ups all over town, including at a press event in New York while director Ryan Coogler and fellow co-stars, Danai Gurira and Chadwick Boseman, enjoyed the show.
Nyong'o got him AGAIN during a panel discussion that streamed live on Twitter so the whole world could watch. Thanks, Lupita.
Jordan is going to be in amazing shape if Nyong'o keeps this bet up because he dropped for a few more push-ups at the Calvin Klein fashion show. For some reason, there were spaces in the floor filled with popcorn, but Jordan hopped right in the mess for a little exercise.
Nyong'o posted the video on Twitter with the caption,
On-call push-ups #3 in popcorn at the #CalvinKlein show @michaelb4jordan. 3 more to go...
Finally, Nyong'o burst into Jordan's dressing room before an interview on The View and got him for a third time (I'm sure it won't be the last time). His friends in the room encouraged him to run away, but there was no escaping Nyong'o and her iPhone. Jordan was a good sport and cranked out a few push-ups at his co-star's command. Nyong'o shared that video on Twitter as well with the caption,
.@MichaelB4Jordan, losing with a smile. On call push-ups!!!
I seriously love Lupita. While the two obviously have a fun and silly relationship, their SMPDA (social media public displays of affection) speak for themselves. While the cast of Black Panther gathered for a taping of MTV's Safe Word, things got very flirty over Twitter. In a since deleted tweet Jordan said,
.@Lupita_Nyongo Bring them chocolate cakes back. You ready for round 2? #youknowyouwantthis
I want to know what this is all about. Nyong'o tweeted something equally intriguing back at the actor. She said,
No dessert until you come correct, @michaelb4jordan! #youknowyouwantthis #youaintready
I NEED DETAILS. Maybe the two of them are just playing with our hearts as a cruel joke. Or, Jordan and Nyong'o are on the road to falling in love and Twitter is the push they needed. I feel as though I'm really reaching here.
Whether they are just friends or romantically involved, I love Nyong'o and Jordan. I can't wait to see what the success of Black Panther does for their careers. Let 2018 be the year of more Lupita Nyong'o and Michael B. Jordan.
Check out the entire Gen Why series and other videos on Facebook and the Bustle app across Apple TV, Roku, and Amazon Fire TV.