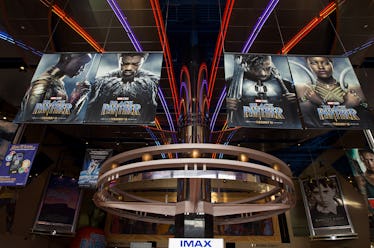 'Black Panther' Is Breaking Records Left & Right & Twitter Is Cheering So Hard
Bob Levey/Getty Images Entertainment/Getty Images
Marvel and Disney have hit it out of the park with Black Panther. The Ryan Coogler directed film premiered on Friday, Feb. 16, and everyone and their mother is racing to the theaters to get their chance to see this groundbreaking film before President's Day weekend is up. Only two days in, news has been spreading quickly about ticket sales, and these tweets about Black Panther's box office records show just how happy people are about the great success of this film.
Black Panther was originally tracked to only bring in between $100 and $120 million its opening weekend, which itself would have been very impressive. However, it just about doubled that number and is set to bring in a whopping $218 million over the four-day holiday weekend — completely demolishing box office records, according to Variety. It's the highest debut ever for a film released in February, and the fifth highest of all time. On top of that, it is the highest grossing opening for a black director and a film with a predominantly-black cast. The last film to hold that record was Straight Outta Compton, which comparatively earned $214 million worldwide over the course of its entire run.
Before the film was even fully released it was in previews on Thursday, Feb. 15 and reigned in $25.2 million breaking another record for highest grossing preview for a February opener and second-largest for a Marvel release, right behind Avengers: Age of Ultron.
So it's no wonder that Twitter was ecstatic to see Black Panther doing so well at the box office.
The film's success is extra important for what it symbolizes.
Even before any records were broken, Black Panther was a highly anticipated title and gained a lot of attention for being the first film in the Marvel Cinematic Universe to feature a black protagonist. More than that, the movies stars a predominantly-black cast. The film features Chadwick Boseman as the Black Panther with a supporting cast of first-rate talent, including Michael B. Jordan, Academy Award winner Lupita Nyong'o, The Walking Dead's Danai Gurira, and Get Out's Daniel Kaluuya.
There is this terrible idea out there that movies with predominantly-black casts won't perform well worldwide. So studios have often been afraid to take the risk. Thankfully not with Black Panther, which had a budget of $200 million — a budget by the way, that it's on track to earn back in its opening weekend alone. So if anyone out there still thinks that audiences don't want to see black stories, the box office results prove that audiences do in fact want more stories represented and Hollywood should put more out big-budget films featuring people of color. The proof is in the $218 million.
There has been a lot of conversation recently around representation of people of color in mainstream media, to boot. We've seen it with things like #OscarsSoWhite, a trending Twitter hashtag and movement that pointed out the lack of diversity among Oscar nominees starting in 2016. There was also the pushback against whitewashing in Hollywood, such as the choice to cast Scarlett Johansson, a white woman, to play the lead Asian character in the 2017 film Ghost In the Shell, the English-language adaption of a popular Japanese manga. With its success now, Black Panther is really making history and upping the representation of black and African characters in mainstream media.
The film definitely adds to that groundbreaking journey.
The emotions around the new movie became clear when #WhatBlackPantherMeansToMe started trending on Twitter.
Clearly, people love it. Black Panther just moved the dial a tiny bit forward, and showed us that maybe we are moving in the right direction.
There is definitely still a lot of work to be done when it comes to representation in Hollywood, but if we take Black Panther in and recognize its importance and hang onto it, then maybe we can actually progress. And just saying, I saw this movie and it was truly one of the best experiences I have ever had in a theater. If you have't seen it already, you should really be evaluating your life choices. Go see it immediately. Seriously. Go right now. Go. Wakanda forever.