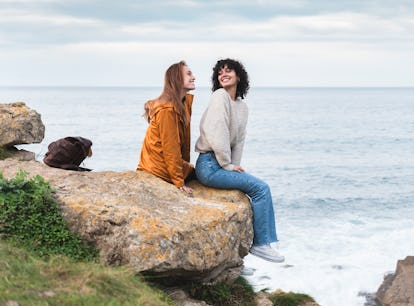 Here's Your Ideal Summer Vacation Spot, Based On Your Relationship Status
Westend61/Westend61/Getty Images
Summer is almost here, which means I've started dreaming of sunny getaways and Instagram-worthy summer vacation ideas. I love to plan trips to new places, and every time the weather starts to heat up, I start itching to hop on a plane. Whether it's a quick little day trip or a week-long endeavor, there's a perfect destination for every relationship status — so you can live your best life, no matter what your love life looks like.
Obviously, your perfect vacation is something only you can plan, and it comes down to a variety of factors, such as time, budget, and activity preferences. But the vibe will probably be different depending on what kind of relationship you're in… a romantic weekend snuggled up with your partner is a far cry from, say, a flirty single girls' trip where you're hitting on cute people at the bar. Before you start booking your flights, think about what kind of mood you want to set for the trip. It could be romantic, it could be adventurous, or it could be just plain chill.
Read on for the best vacation spots for summer to get your planning started, whether you're single, committed, or somewhere in between.
Ready to book a flight yet? No matter what your vacation vibe is, there's a destination out there to suit your fancy. Get ready for a new adventure with the people you love most, whether it's your partner, your pals, or yourself. This summer is already looking like one for the books.
This article was originally published on