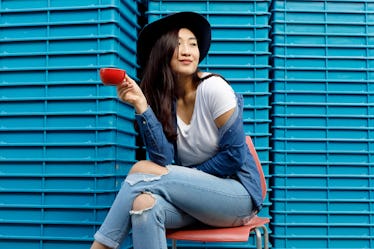 You Might Not Realize It, But These 6 Everyday Things Count As Meditation
Want to know a secret? Even if you think you've never really "formally" meditated before, you might just be an expert meditator already. Contrary to popular belief, mindfulness goes far beyond sitting cross-legged with your eyes closed and emptying your mind. There are plenty of everyday things that count as meditation; it simply depends on how you go about doing those things in your day-to-day routine, and how they make you feel.
It might sound ridiculous at first, but seriously, just about anything you do — even the five blocks you walk to get to the subway every morning — can be meditative in some way. According to clinical psychologist, meditation leader, and yoga teacher Dr. Carla Marie Manly, something as mundane as sipping your morning cup of coffee can easily be considered a meditative experience if you simply make it a point to slow down in the moment, and truly savor everything about it. "In our hectic world, we tend to think that we will have time for peace and quiet some day in the future," Manly tells Elite Daily over email. "We forget that we can have peace and quiet right now — no matter how busy the external world might be."
When working with her own clients, Manly says she often finds that people rush through breakfast, rush to work, rush through dinner, rush to yoga class — all the while forgetting that every moment of rushing is a lost moment of enjoyment. "Whether you are stuck in traffic, eating oatmeal, or weeding the garden, the present moment can be turned into an appreciative and meditative moment by turning your thoughts not to the day ahead, but to the ritual of [the task at hand]," the yoga teacher explains.
Don't be fooled: Manly says it definitely takes practice to transform something simple like laundry into a true act of meditation, but rest assured, your perseverance will pay off. So the next time you find yourself doing any of these six seemingly ordinary tasks, remind yourself that you always have the power to mindfully transform these otherwise blah experiences into rewarding moments of peace and tranquility.