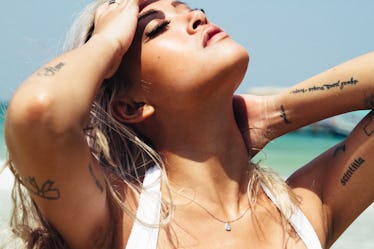 20 Instagram Captions To Use After A Bad Breakup To Show Your Ex You're Fine
After a breakup, you tend to go through the five stages of grief. There's denial, anger, bargaining, depression, and acceptance. Somewhere in the midst of those stages is the often overlooked, but just as important sixth step: Instagram. You know your ex is looking at your posts, because you're looking at theirs. So you choose your photos and captions carefully. Whether or not it's true, you need to let your ex know you're just fine without them. That's why these 20 Instagram captions to use after a breakup convey the right amount of confidence with just a hint of sass.
These captions pair best with a fire selfie, a casual plandid (planned candid), or a group shot of you and your friends. You'll want to achieve the effortless look of someone who's totally over a breakup. Yes, you happened to get a fresh haircut and a new top, but that's totally unrelated. You're not even thinking about your ex, like, at all. And if they happen to see this, whatever. It's not like you care.
Social media is about putting your best self forward. So use any of these Instagram captions after a breakup and make sure your ex knows that not only are you fine, but you look fine, too.
When You Know You Look Hot
1. "Started wearing less and goin' out more." — Drake, "Hotline Bling"
2. "And no, this ain't the clean version." — Justin Timberlake, "Filthy"
3. "I woke up like this #flawless." — Beyoncé, "***Flawless"
4. "I'm on top of the world." — Imagine Dragons, "On Top of The World"
5. "I should let you know ahead of time I'm coming back on my worst behavior." — Drake, "Worst Behavior"
When You Post A Pic Of Your Real Bae
6. "I know guac is extra, but so am I." — Unknown
7. "The more boys I meet, the more I love my dog." — Carrie Underwood, "The More Boys I Meet (The More I Love My Dog)"
8. "Happiness is a cup of coffee and a good book." — Unknown
9. "If you're reading this, bring me wine." — Unknown
10. "Women and cats will do as they please, and men and dogs should relax and get used to the idea." — Robert A. Heinlein
When You're With The Squad
11. "Who run the world? Girls!" — Beyoncé, "Run the World (Girls)"
12. "Live fast, die young, bad girls do it well." — M.I.A., "Bad Girls"
13. "I'm just having fun with my ladies here tonight." — Kesha, "Woman"
14. "Most girls work hard, go far, we are unstoppable." — Hailee Steinfeld, "Most Girls"
15. "I be stuntin' with my clique." — Tinashe, "2 On"
When You Want To Flaunt Your Single Status
16. "I was busy thinking 'bout boys." — Charli XCX, "Boys"
17. "I've got new rules, I count 'em." — Dua Lipa, "New Rules"
18. "It feels like a perfect night to dress up like hipsters, and make fun of our exes." — Taylor Swift, "22"
19. "Catch flights, not feelings." — Unknown
20. "Oops, I did it again." — Britney Spears, "Oops, I Did It Again"
No matter what type of message you're trying to send, there's a quote here that fits your Instagram style. Smart, sexy, funny... Pair these captions with your photos to show your ex that you're so over it. I'm not saying you have to win the breakup, but these quotes might help you do just that.
This post was originally published on Jan. 17, 2018. It was updated on Aug. 16, 2019 by Elite Daily Staff.