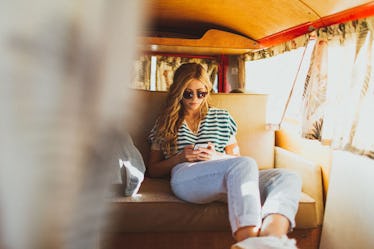 The Most Chill Vacations You Could Ever Want, When You're A Low-Key Kind Of Girl
When you're a low-key kind of girl, rest and relaxation is always on your mind. You spend your days dreaming about cozy atmospheres like your bed on a rainy Sunday morning, or a bubble bath with candles and a good book. Yes, you've found a lot of ways to be content right at home, so wanderlust is not quite a priority. You're still totally into traveling, and truly love exploring the planet, too. But, you'd rather take the most chill vacations, that fit right in with your low-key lifestyle.
Leave the bustling city streets and nightlife for someone else. That sort of destination just isn't in the cards for you this summer. Anywhere with a beach, or just a couple of cute coffee shops you can hang in for awhile during the afternoon is much more your scene. You'd rather the neon lights point you to ice cream instead of clubs, and will always pack a pair of sneakers as opposed to heels.
You may have already talked to your girls about planning some trips, but they want to hit up the bars in Barcelona, and go on the most adventurous vacations that likely include hiking many mountains. You've considered hanging back, or just need some other places to pitch to the group. These seven travel spots will be everything you're looking for.