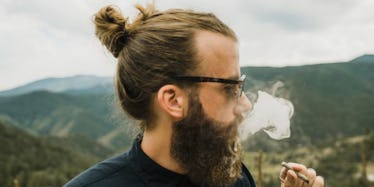 11 Reasons Denver Is The Perfect Spot To Travel For A Long Weekend
Isaiah & Taylor Photography
It's not every day that one of your best friends from high school picks up and moves halfway across the country to live on a marijuana farm.
But, it happens.
She's doing just swell out in Colorado, where medical and recreational marijuana is legal, and it's totally acceptable to grow your own hash.
So naturally, it's only right to jet off and see how she's doing there. Before she could say, "come visit," I was already Denver bound.
But the thing I learned about the Mile-High City (as it's called) is that it's so much more than getting high.
The activities run the gamut, from historical, family-friendly and artistic to glutinous and wild.
Sure, there's a dispensary always within arm's reach or the faint tinge of pot in the wind (mixed with the bold scent of clear, mountain air), but life in Denver is not that far off from life in New York City.
It's just minus Uber cars honking, pedestrians that bum-rush you and the scent of street garbage.
It was a friendly city, and maybe that's because everyone's just stoned enough to not care about the idiosyncrasies that New Yorkers painfully endure.
We spent three days exploring the streets of Denver, and I found it to be full of adventure and character.
1. Go to a dispensary.
At least pop in. Even if Mary Jane isn't your thing, it's pretty cool to be on American soil and just walk into a weed shop.
The only restrictions are, you have to be 18 to consume it, and you can't do it on public property.
Take a look at the selections (everything from kush to edibles), and dabble if you feel so inclined.
It's the iconic landmark of Denver, and it's actually so much more than a train station.
It's filled with some of the best restaurants, shops and bars all under one roof, and it's a perfect "home base" for exploring the city.
Now Union Station will really be your home base!
This hotel within the station is not some type of airport hotel; it's pretty luxurious.
You have the best of Denver within reach and get major perks and discounts at the restaurants and shops in Union Station just for being a hotel guest.
Think coffee, ice cream and happy hour all for free during your stay.
4. Hang out at Terminal Bar.
Locals and travelers passing through are all around Union Station's Terminal Bar.
It's part bar and eatery, part co-working space (there's at least two people with laptops per every wooden cafeteria-style table) and part local hangout.
Whether you're drinking or just people watching, it's an iconic spot to check out.
You can also head to Milkbox Creamery right next door and pick up a boozy ice cream shake.
5. Have brunch at Snooze.
One of the top places to have breakfast or brunch in Denver is Snooze Eatery.
It's so popular, the wait time is at least an hour for these breakfast dishes made from scratch. But, piles of pancakes and ginormous breakfast burritos await you.
6. Go on your own Brew Trail.
Denver's beer game is strong, and it's not just because it's the homeland of Coors. There are microbreweries and craft brew hotspots everywhere.
Hit them all up! Split a beer flight with your pals, and then hop over to the next one. My (and Obama's) personal fave? Wynkoop Brewing Co.
So far, we're just drinking a lot. I doubt you're complaining, but moving on...
7. Hike around Red Rocks.
Red Rocks is a park and amphitheater where concerts and events are held under the Rocky Mountain stars.
My trip to Denver didn't align with any major musical performances, but the park actually has a bunch of hiking and biking trails.
Hike through rock formations for some outdoor adventure.
8. Eat homemade doughnuts.
I love sweet treats, so naturally I seek them out wherever I travel.
Voodoo Doughnuts in the Capitol Hill neighborhood made some real big ones with unique fillings, and Jelly Cafe sells perfect little doughnut bites made fresh to order.
Get in my belly.
9. Go to the Molly Brown House.
Molly Brown is a badass chick who did a little thing like survive the sinking Titanic.
She lived in Denver and her house has been preserved as a museum. You can go for a one-hour tour and hear all about the Unsinkable Molly Brown.
10. Get an Apothecanna Massage.
LoDo Massage Studio came up with a genius treatment that incorporates cannabis oils into its massage cream.
The Mile High Massage uses Apothecanna Pain Crème that's infused with CBD, along with some other natural ingredients like arnica, peppermint and juniper that all work together as a natural pain reliever and anti-inflammatory.
The rest you'll have to experience yourself.
11. Get artsy at the museums.
There's a bunch of interesting museums around Denver, from contemporary art that'll make you scratch your head to modern art and a Van Gogh Exhibit. Get lost in the creativeness.
If you're heading West (whether to live or visit), make sure you indulge and experience as many of these iconic activities as your time allows.