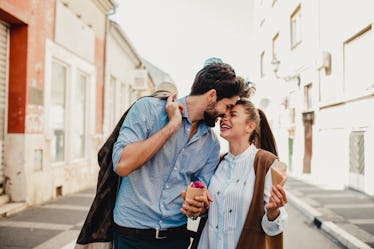 10 Romantic Trips Every Couple Needs To Stop, Drop, & Book In Their 20s
blackCAT/E+/Getty Images
Is there anything more romantic than traveling the world with your partner? Sure, you might not dream about walking through security lines at the airport with your love. But landing in a destination like Italy, France, or the beautiful beaches of an island is pretty daydream-worthy. It's why you've made it a point to renew your passports and look into sweet and romantic trips for couples in their 20s.
You don't want to sleep on the experiences you can have together while roaming around the lush jungles of another country or eating ice cream in a vibrant city that's close to home. Those moments are the ones you'd want to capture on camera and put in a giant scrapbook. They're the relaxing, cool, and love-filled excursions that you and your SO have put on a bucket list of "things to do together" and vowed to check off in your lifetime.
Of course, you could wait until you're older to go on these romantic trips. You might have more money or time by then to travel and score seats in first class. But taking these 10 trips in your 20s could make them so much sweeter and more romantic. Stop, drop, and book them now, OK?