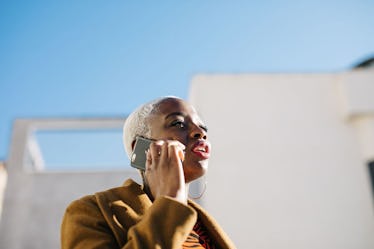 8 Apps Every Millennial Needs On A Plane Ride To Actually Enjoy Their Time In The Clouds
As of right now, the only thing on your radar is your travel goals — and I don't blame you! There isn't a second that goes by when I'm not thinking about where in the world I want to explore and experience, too. Destinations like Indonesia, Iceland, and Portugal are currently on the top of my list. And one day, in the near future, I hope to catch a flight and recreate some of the memories that Julia Roberts made in Eat Pray Love. (Pasta and palm trees will be #necessary.) But, I'm also taking this spare time to gather some of the best apps to download for a plane ride, because I know there are some long flights ahead of me.
There are days when I'm never going to put my feet on the ground, and hours when I'll be squeezed into a window seat with barely any leg room. I'll be apologizing to the person next to me every time I need to grab a pair of headphones or a snack from my carry-on bag, because I'll be nudging them a bit. But, to me, that's really the only downside of traveling: the long flights that are required to get to your destination.
It's worth it, though, right? So many beautiful experiences await, and if you download these eight apps onto your phone, you'll actually enjoy your time in the clouds. Pinky promise.