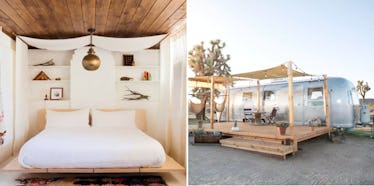 7 Joshua Tree Airbnbs For A Cozy Weekend In The Desert With Your Day Ones
Girls just want to get away from the hustle and have some fun in the sun. You daydream about hopping on a plane and turning off your phone for an entire weekend. You'd "accidentally" forget your charger, and swap out your favorite social media apps for starry nights by the campfire. Getting off the grid can be much easier said than done, but the serenity on the other side would be so worth it. Renting one of these Joshua Tree Airbnbs with your day ones would make for a cute and cozy retreat. Are you down to spend a few days in the desert?
Picture this: You'll wake up in the morning in an aesthetically-pleasing place. The warm sun will beat through the windows and shine natural light onto your enormous white comforter. In the other room, your bestie will be brewing some coffee, and the aromas will fill the airstream. Just outside, the mountains and cacti will stretch to the horizon line. In the afternoon you'll probably explore and have a photo shoot in the sand. Yes, please!
By the end of the weekend, you'll feel relaxed and recharged. The desert proves to be the perfect spot for a girls' trip. These seven Airbnbs, and that warm weather, will be waiting for you.