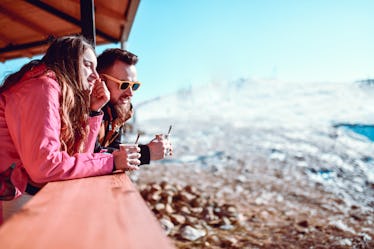 6 Influencers Reveal The Most Romantic Ski Destinations For This Winter With Bae
AleksandarGeorgiev/E+/Getty Images
As far as you're concerned, winter is the time to cuddle up with bae and add a few memorable adventures to your love story. Maybe you feel this way because you're a Sagittarius, or have simply been seeing couples go to the most romantic ski towns and cities for winter 2020 and feel inspired to do the same. According to influencers, there are a few destinations that are really worth your time and money, and will make the sparks fly.
Whether you're traveling for a Valentine's Day trip or an annual couples' ski trip, you won't be disappointed. The powder-filled mountains will be your home away from home — a place where you can take a break from the "real world" and completely focus on your relationship. Just outside the resorts and slopes, you'll be able to find cute eateries and bars that are welcoming and cozy. To say the least, you might never want to leave and cancel your plane ticket back to the city.
You may also plan another romantic ski trip and really make the most of the season. Thanks to these six influencers, you now know where to go. Don't forget to pack some extra layers and your signature hot chocolate mugs, OK?