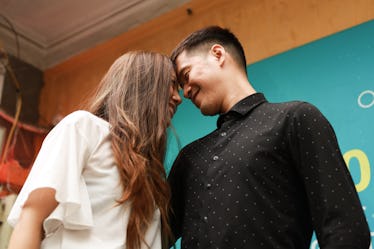 7 Engagement Photo Shoot Locations To Travel To That Are Total Bliss
kyonntra/E+/Getty Images
Right after your significant other popped the question, you probably had a million amazing thoughts on your mind: where will you get married, is there a particularly trendy spot to take a honeymoon right now, and will you dance your first dance to a Taylor Swift song? The next few months of wedding planning will tell. Right now, simply celebrate this chapter in your relationship and look into engagement photo locations to travel to that are total bliss.
When you're engaged, every day will likely feel exciting and full of love. You'll wake up to your lover snuggling into your side, and watch the sun make your ring sparkle through your bedroom windows. Although your wedding day might not be for another 100 days or so, you'll still get a rush of excitement writing out invitations, picking out a cake, and counting down the days until you get to say, "I do." In between the laughs, smiles, and wedding-related appointments, you'll want to jet-set to someplace dreamy and document this epic time in your life.
If you have a friend who's a photographer, you may want them to come along and snap pics of you and bae sharing kisses and romantic #looks. Or you may want to purchase a digital camera and capture those gazes and relationship #goals for yourself. Either way, these seven locations will make for total bliss and beautiful engagement pics.