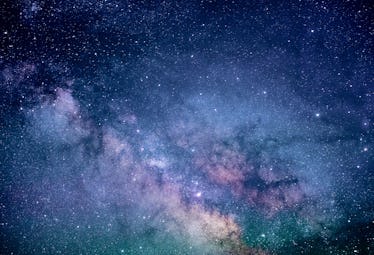 Your December 2017 Style Horoscope Reveals What To Wear To Survive Mercury Retrograde
Happy December, beloved angel-goat's of my heart. It's officially holiday season and don't argue with me about that. Your December 2017 horoscope for style is here, and as mentioned last month, Mercury is going retrograde. This backward motion can lead to miscommunication, issues with technology, and overall dissatisfaction with agreements and contracts. Honestly though, even without Mercury being a total drama queen, December is always a doozy of a month. School breaks, the holidays, and year-end stuff all form a delightful soup of chaos in which we are the human croutons having fun, getting soggy, and asking life's big questions all the while.
Like, should i buy this mandolin slicer I will only use once? It's 40 percent off.
Or, would my life be more glamorous if i bought an outrageous faux-fur coat with velvet lining?
Or even, am I just a by-product of this produced environment programmed to operate in specific ways to evoke key emotions and low-level motivation in this post-industrial complex so that my complicity becomes inherent in my identity?
So while you untangle life's great mysteries, exploring Plato's Allegory of the Cave, etc. etc, here is some fashion advice from someone who once wore cat ears, non-ironically, as a fashion statement. As always, remember that a pair of shoes is only as good as the individual rocking them, and that fashion is, in large part, another capitalistic system that we must disrupt and re-invent to fight oppression by dominant culture. Here's what to wear to survive Mercury Retrograde, anyways.
Aries
Ooh, Aries. This month, opportunity meets optimism as your hard work finally gets some recognition. Whether it be in work, relationships, or creative projects — we see you. So strut a little bit. Know your angles, and we'll be your adoring audience.
Focus on skincare, maybe picking up a few product reccos from Meghan Markle. Your fresh face will stun your relatives and close friends, possibly resulting in a marriage proposal. Or, you know, if you run into your ex at CVS, you'll be able to buy your lip balm and dish soap with dignity.
Fashion-wise, take advantage of all the holiday deals like Lauren Conrad's Holiday Collection. Comfy, cute, and cozy — it's the perfect intersection of playful meets cinnamon roll.
Taurus
Buckle up, Taurus. You're going to meet a lot of new people this season, especially socially. Friends and their significant others, colleagues, classmates, etc. — are all ripe for the meeting. Don't let your hyper-focus and carefully guarded heart turn you off to new experiences.
You need pockets. For purely fueling purposes. Eat those snacks! Be satiated nutritionally to give you the extra boost to play nice with your BFF's boyfriend who has the shelf-life of your half-used mascara.
Hear me out — coats with pockets, pants with pockets — whatever works. Utility, but like, make it fashion, you know?
Gemini
Don't let sentimentality rule your life this month, dear Gemini. December drags nostalgia and contemplation behind it, ready to be obsessed over. Don't be afraid of a fresh start, or leaving old projects, ideas, and people behind.
Try these sleek lips, and minimal eye makeup for that wide-awake, ready-to-fight-or-drink-champagne look. (Or is that just me?)
And don't forget the shoes! Harry Styles has been wearing gold heels, and you also need a gleaming pair.
Virgo
I see a lot of emotional turmoil this month as issues come to a head and conflicts become unavoidable. But this is an opportunity, Virgo. Your emotions don't belong with stained sweatpants and acid-wash jeans — in the trash. As T.I. would say;
Swizzie!
(Bring 'em out, bring 'em out) Aye!
(Bring 'em out, bring 'em out) TI
(Bring 'em out, bring 'em out) Aye!
This parka is waterproof, so don't be afraid to cry. Sometimes conflict with the people you love can really deepen a relationship and make everyone involved more honest.
And if not, here's a cute bag with texture that you can keep fully packed to get out of a toxic situation, stat.
Cancer
With Mercury in retrograde, take special care not to overexert or overcommit. Your warm and maternal instincts will be tested this month as people come to you to solve issues and mediate problems.
Consider wearing this No. shirt as a reminder to put yourself first. and don't feel the need to get involved in people's issues and drama.
Don't be surprised if you get sick when dealing with all this tension. Rock your sniffles with this doctor-inspired chic white winter coat à la our impending princess/duchess.
Leo
Fun, new friends, and romance — what doesn't December have in store for you, Leo? You'll be constantly on the move this month, bouncing around from one event to the next — but you'll be ready for it.
I am FEELING this LuLu's dress with boots for a night out, or pairing it with a turtleneck underneath and a messy bun for a more office-appropriate look.
Libra
Sweet Libras, December might find you feeling passionate and fired up as an activist, championing certain causes and charities that spark your heart. I love that. I love that SO MUCH. Please follow this urge — your compassion and conviction is hugely important right now, possibly more than ever.
Listen to this voice inside you. Fashion-wise, there are so many incredible brands that give back. Try this sweatshirt, or these specs, and remember — the best gifts can be a donation in someone's name to a cause they support.
Scorpio
While the masses may be lounging by their various yule-tide logs and taking pictures of their fuzzy socks — you're on fire, Scorpio.
An upsurge of creativity and focus may have you more than daydreaming. This dog mom pin will spice up any scarf or winter coat, and this oversized sweater looks like something that a good friend would have to peel off your body after you refuse to take it off for a week. Indulge. Get weird.
Or hey, go ahead and make your own.
Sagittarius
Happy Birthday, Sagittarius! As friends and family huddle close to smooch your cheeks and (hopefully) ply you with gifts and wine and puppies — soak it in. This month will present you with so many opportunities to strengthen existing relationships with quality time and acts of service (my fave love languages, tbh).
Try cozy indoor dates. Wear blanket scarves, thick yoga pants, and anything fuzzy. Enjoy the goodness of the human spirit. Spread the hygge.
Capricorn
Capricorn, you've been working hard and/or feeling stuck for a while now. As a result, you may feel tired, overwhelmed, or burnt out. If you need time to re-charge, take it.
Conversely, this rut might be just the kick in the pants you need. If you feel the call — go for it. Adjusting your diet, creating a gym routine, and addressing your health is a surefire way to get your groove back.
Whether you decide to channel your inner couch potato or run from the wolves of your past, this bralette top and this baseball cap scream LOOK AT ME/just kidding.
Aquarius
Focus on the positive and visualize your success, Aquarius. Be more reflective than usual on your choices this month, as things you say and do can affect your long term future.
Make your face glow as bright as your future with face masks and skin treatments that make you feel reborn and ready to tackle the new year. Consider applying hair masks and incorporating all natural ingredients that make you feel your best with and without makeup.
Pisces
Balancing ambition with Mercury Retrograde is tough, but if anyone can do it, its you. Pisces, this month is time to get serious. Or, get serious about getting serious. If you know what to do-- go do it. If you're not sure, do some soul searching. Now is the time to turn intention into action.
This wide-legged onesie speaks to your artistic flair, and the fact that IT'S PANTS gives you the freedom to move forward in whatever feels right. Pair it with this cabbie hat, and you might just have a bright future in street style. You're welcome, babies. xoxo.