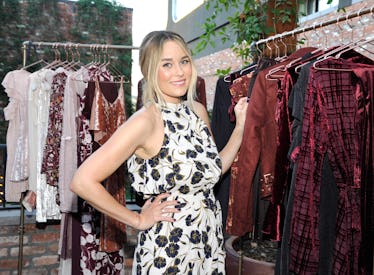 Lauren Conrad's Holiday Collection Includes Wine Charms & Cat Ears, So Count Us In
John Sciulli/Getty Images Entertainment/Getty Images
Lauren Conrad has indisputably come a long way from her days of pining after Stephen Colletti on MTV's Laguna Beach. The former reality television star is now the mastermind behind a successful fashion and home-goods brand. And now that it's finally November, it's time for the line's newest release - the LC Lauren Conrad Kohl's holiday collection.
The mogul formerly known as LC has always seemed wise beyond her years (minus that time she chose to spend the summer in Malibu with her then-boyfriend Jason Wahler instead of going to Paris with Teen Vogue for the chance of a lifetime). That same girl is now a married mother of son Liam, though, so let's cut her a break. Conrad has spoken about how her style has changed since becoming a mom, and how that means no more dry clean-only clothing. While I am lightyears away from being able to discuss my own maternity style, I can definitely relate to wanting to be able to just throw all my clothes in the washing machine, and be done with it.
Conrad takes all of these pointers from her own lifestyle into consideration when designing for her eponymous line at Kohl's, and she gives the people what we want. For this year's holiday drop, LC Lauren Conrad has almost too many adorbs pieces that I just must have. Thankfully, Conrad has also given us some shopping tips by picking her absolute favorites. The below products offer something for everyone on your holiday list, so you may want to check it one more time before you start shopping.
Bunny Ring Holder Trinket Tray
Bunny Ring Holder, $24, Kohl's
This trinket tray is the solution to all your small, stud earrings rolling around on top of your dresser. And the bunny ears will hold your rings!
Cat Ears & Whiskers Trinket Tray
Trinket Tray, $22, Kohl's
This other catch-all tray is perfect for the more feline-friendly crowd out there.
Calla Women's Pointed Loafers
Pointed Loafers, $25, Kohl's
A pointed-toe, velvet loafer would be so on trend right now. Oh look! This smoking slipper-style loafer also comes in nude and black, with the same elegant embroidery. I think your mom would love to see these wrapped up under the tree.
Peridot Women's Velvet Flat Mules
Velvet Flat Mules, $40, Kohl's
Do you have an older sister you're constantly trying to impress? She won't be able to deny how fetch these slip-on shoes are.
Faux-Fur Kitty Earmuffs
For your little sister who is obsessed with Ariana Grande: She can use them for her Halloween costume next year, too.
Chenille Fringe Throw
Fringe Throw, $25, Kohl's
Grandma will love this super soft chenille throw blanket. Think of it as a thank you for all the things she's knit for you that you just love...
Lurex Cuff Pom Pom Beanie
Pom Pom Beanie, $20, Kohls
That punk-chic cousin you never know how to shop for - this is for her. It also comes in blush, gray, and white if you have less fierce relatives.
"Baby's 1st" Christmas Ornament
Christmas Ornament, $5, Kohl's
I'm sure many of you have a new niece or nephew on the scene this holiday season, and if you want to get something that will last longer than a onesie on a growing infant, this keepsake ornament will be a winner.
Ballerina Bunny Christmas Ornament
Bunny Christmas Ornament, $5, Kohl's
Conrad also has some plush ornaments that are be a bit more toddler-friendly.
Ballerina Mouse Christmas Ornament
Ballerina Mouse Ornament, $5, Kohl's
That tiny, fluffy coat is too cute.
"Sparkle" Stars Coaster Set
Sparkle Star Coasters, $11, Kohl's
If your family likes to get boozy around the holidays, these festive coasters will keep anyone from getting in trouble over the infamous coffee table ring.
"Happy Hour" Wine Charm Set
Wine Charm Set, $15, Kohl's
These wordy wine charms will make sure you don't accidentally drink out of grandpa's wine glass, who knows where those dentures have been?
Plaid Blanket Square Scarf
Plaid Scarf, $20, Kohl's
If you have a boss or professor you need to get a gift for, this scarf is it. It has a simple plaid design and comes in four different colors so it will go with anyone's style.
Velour Bunny Ear Ballet Slippers with Sleep Mask
Ballet Slippers, $18, Kohl's
Wow, all that shopping really tired me out. I'm ready to curl up in these insanely adorable bunny slippers with a giant mug of hot chocolate.
The Lauren Conrad Kohl's Holiday Collection is available now at Kohl's, so scoop up your favs before they run out.