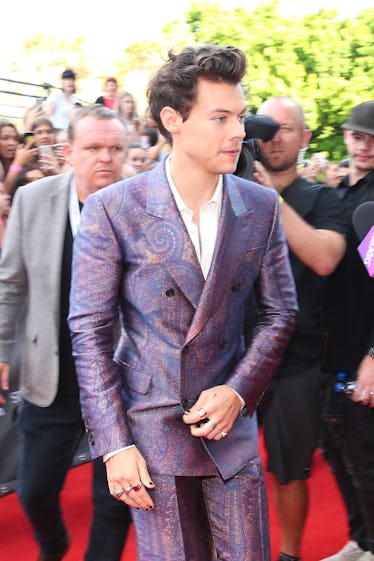 Harry Styles Wore Metallic Gold Heels & You'll Definitely Want A Pair For The Holidays
Scott Barbour/Getty Images Entertainment/Getty Images
Last night, the annual Australian Recording Industry Association Music (ARIA) Awards honored a slew of incredibly talented Aussie artists. And while they were all entirely deserving of the spotlight, if I'm being real with you, Harry Styles' gold heels were the true stars of the show.
If you're scratching your head and wondering why Styles, a British lad, was at the awards show in the first place, it's because he was there to accept the award for Best International Artist. He also performed his wildly appropriately titled single, Kiwi, during the ceremony...and yes, he was wearing the heels while doing so. (If you haven't watched the video for Kiwi, do so now; it features impeccable styling and Styles' adorable Mini-Me.)
Before we get into the amazingness that is the metallic shoes themselves, I should preface this all by saying that I have never been more attracted to Harry Styles in my life than I was upon seeing photos of him from last night. He was wearing a purple bespoke Alexander McQueen paisley suit that had a liquid sheen to it, and looked like a glorious mixture between Paul McCartney and Prince. His hair was perfectly tousled and his white undershirt was ever so teasingly unbuttoned. My loins!
Now, onto the shoes. Designed by London-based brand Roker Atelier, they are boxy-toed boots that boast a relatively small, but totally noticeable heel. I'm guessing Harry grows about 1.5 inches with them on. On anyone else I think they'd remind me of these weird, clunky shoes my mom owned in the early aughts, and that I totally used to make fun of her for. But on Styles? They look like the coolest damn boots I have ever seen. When I see them on him, I need a pair, especially with holiday party dressing just around the corner. Which is probably why Styles himself owns two.
According to a Twitter account dedicated to chronicling everything Styles wears, which I've discovered is a custom floral Gucci suit 80 percent of the time, he also owns the same pair of heeled boots in a blush color. He wore them to his June show at the Troubador and paired them with gold flares embroidered with flowers by, you guessed it, Gucci. A man after my own heart.
If you're a diehard Styles fan, then you already know that the musician has stepped out in elevated footwear before. He's been spotted in heeled Gucci loafers on numerous occasions, and also made waves in the media for sporting a pair of red leather booties.
While the fashion world and world in general have made a lot of progress in terms of shattering antiquated ideas about gender-specific dressing, we still have a long way to go. So when stars who are as illustrious and influential as Styles step out and challenge such ideas with what they wear themselves, it helps broaden people's minds about such things.
It might surprise you to hear that high heels were originally designed for men, so the fact that it's so surprising for many people to see men wearing them today is pretty ironic. According to Teen Vogue, high heels "found their place on the feet of male soldiers, aristocrats and even royals in differing parts of the globe." 17th century Persian soldiers needed heels in order for their feet to grip into stirrups, while French aristocrats and royals began wearing them in the 1600's to appear taller and more regal. So gender-specific dressing? It's BS.
I can't wait to see how Harry will continue to push sartorial boundaries and redefine what it means to dress the part of a rock star. I hope it involves even more millennial pink, heels, and Victorian collars. And I want to borrow those gold heels.