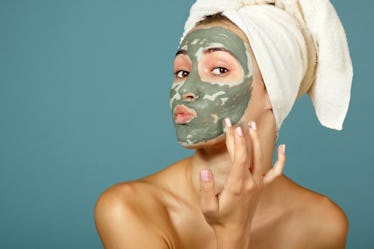 6 Black Friday Face Mask Deals That'll Keep Your Skin Glowing In The Winter
Having to cook a holiday meal for the good part of the day, while dealing with family drama, can make Thanksgiving a stressful affair. Of course, you are more than grateful to have your loved ones around, but after the holiday is over, you need a little regrouping and relaxation. Luckily, the day after Thanksgiving is the perfect time for some retail therapy — aka, shopping for the essentials to truly treat and pamper yo' self. That's why it's crucial to know of the best Black Friday 2017 face mask deals, so you can embrace your mission for ultimate relaxation.
Knowing exactly where to go for the best deals will help you get the most out of Black Friday without any added stress. (We all know you don't need that two days in a row.) While everyone else is running around without a solid game plan in mind, you can make your way through the Black Friday chaos like a total champ, knowing exactly what you want and how to get it. We can just hear the loudspeakers saying, "Attention all shoppers! Make way for the beauty queen who needs her face mask to unwind after a long AF Turkey Day."
With these six Black Friday deals, you'll be glowing throughout the holiday season. They're such good deals, that you may even be thinking about gifting your friends and family with some face masks as well. That way, everyone will be as radiant as that star on top of the Christmas tree you'll be thinking about putting up just as soon as you finish relaxing.