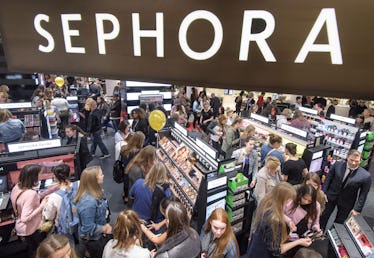 Sephora's Black Friday Sales Are Here & This Cult Favorite Moisturizer Is Over Half Off
Thomas Lohnes/Getty Images Entertainment/Getty Images
While I'm counting down the days until it's socially acceptable to start blasting Christmas music, Sephora's Black Friday 2017 sales just became available on the Sephora app. If this is the brand's way of telling me to slow it down and revel in the Thanksgiving magic, I'm totally here for it.
Just like last year, Sephora loves to give a preview of their deals leading up to Black Friday. It's not only a way for you to prevent buyer's remorse, it also takes the frustration out of speedy Black Friday shopping. The catch: You have to download the Sephora App to get the exclusive preview first. But considering it's way easier to sneakily scroll through the app at work than browse on your desktop computer, this is actually a gift in disguise. Members of Sephora's Beauty Insider Community got the scoop three days early, so if you don't belong, seriously exit this story right now and sign up —but don't forget to come back.
This year, Sephora's offerings include sets and products at $15 and under, which means you're getting some of the best brands for almost 75 percent off. In addition, the beauty behemoth is also releasing two exclusive palettes by Kat Von D and Too Faced. Now because I love you, and I also want to start making my list, below are some of the best items included in the Black Friday deals. Don't forget to DL the app for the full list of exclusive releases, of course, but think of this as the preview of the preview.
A Life-Affirming Tub Of Skin Goodness
Anyone with persnickety skin knows that First Aid Beauty is like that friend who always affirms your life choices: gentle, reinforcing, and lovely, no matter what questionable decisions you've made. Gear up for the winter ahead with this soothing, reparative moisturizing cream, which is reduced from $42 to $15, and will last well into spring.
The TSA-Approved Best Hair Day Ever
Featuring the best-selling Alterna Replenishing Moisture Shampoo, Conditioner, and hairspray, this airplane-friendly kit is a serious steal. I think I spend more than $10 on my shampoo alone. Plus, this is a genius way to try out the line before you spring for full-size versions.
When You Wish His Face Was Softer
Ignore the Just For Men packaging, because men and women alike will love this deep-cleaning face wash. Brimming with volcanic ash, antioxidants, and glycolic acid, it's like one-stop shopping for buttah-soft skin.
The Brand New Highlighter That Will Make You Feel Brand New
Sephora's Rouge and VIB insiders will get first dibs on this new Kat Von D highlighter palette on Nov. 21, while the rest of us have to wait until Nov. 23. Inspired by the Metal Crush Eyeshadow in Thunderstruck, this limited-edition stunner contains three metallic shades loaded with hyper reflective micro-crystals. Gammaray is described as a "prismatic peach with pink and gold crystals", while Helix is an "ethereal opal with gold and silver crystals." Rose-shock, a pretty pink, offers "pearlescent pink color with lavender and pink crystals." Cant.Wait.To.Swatch.
The Dashing Through The Glow Kit
Although I love highlighter, there is nothing I want more than naturally glowing skin. Ole Henriksen is a clean Scandinavian brand that promises to yield just that with this one-two punch of cleanser and moisturizer. Anyone who wants to up their skincare game with natural ingredients should start out with this steal.
Raising The White Chocolate Eyeshadow Bar
Available Nov 21. for Sephora's Rouge or VIB insiders or Nov. 23 to all, this limited-edition Too Faced eyeshadow palette features 16 pastel-rific shades that smell like white chocolate. FULL STOP. Every single one of the confection-themed hues is dripping with pigments, and with names like Glaze, Cake Batter, and Chocolate Syrup, you're going to want to eat them. Instead, sweep them over your eyelids and slay all day.