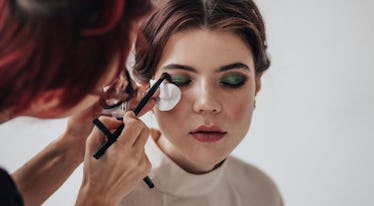 Here Are The Top 3 Eyeshadow Trends You'll See This Fall, According To A Pro Makeup Artist
Sergey Filimonov/Stocksy
When the seasons change, my makeup changes, too. When it comes to my base products, the shift is brought on more so by necessity: Colder temps and a decrease in humidity have me focusing more on hydrating my skin and less on taming my oily T-zone. When it comes to eyes and lips, though, there's more freedom to experiment and have fun, which is why I've been taking notes on all the biggest fall 2018 eyeshadow trends. Anyone can rock any kind of eye makeup, so if you're reading this, it's time to step up your shadow game for autumn. If you're wondering exactly how to do so, don't ask me — ask a professional makeup artist. Except I already did that for you, so you're welcome.
Emmy Award-winning makeup artist Andrew Sotomayor has the scoop on all the new fall makeup trends, and he's more than excited to put them all to the test on his celeb clients. "Fall is my favorite season because, with the weather cooling down, it's easier to layer clothes and have more fun with makeup, knowing that warm weather won't wash it away."
So, what's on the agenda for eyes this season? Sotomayor breaks down the top three trends he predicts will be major head-turners all fall long.
Major Contrast Moments
"High-contrast eye shadows are a big trend," insists Sotomayor. "Hyper-matte shades paired with hyper-metallic, shimmer, or glitter shades allow you to really sculpt your eyeshadow, since mattes absorb and diffuse light, while shimmers make it pop."
The sculpted, contoured eye paired with a pop of shimmer is a can't-fail shadow recipe, particularly popular amongst the beauty gurus racking up thousands of likes and views on YouTube. Given the hype, it's no surprise that the rest of the beauty community is looking to master this trend for fall as well. IMHO, NikkieTutorials, who has a cool 11 million followers on Instagram, is basically the queen of this trend, and is therefore the ultimate inspo for all your fall lewks.
Still haven't found the perfect shimmer to top off your high-contrast eye? Look no further than the Stila Shimmer & Glow Vivid & Vibrant Collection ($24 each, stilacosmetics.com), an update on their much-raved-about Shimmer & Glow formula, now in six new pigmented, statement shades. I'd go as far as saying you almost can't create a successful smoky eye this fall without the bronzy "Vivid Smoky Quartz" as your something sparkly — you've been warned.
The Everyday Eye
"Fall makeup changes as summer tans fade, and most of us shift gears back-to-work or back-to-school," explains Sotomayor of how the seasonal shift affects our daily glam routines. As our schedules change, we can't all be bothered with creating a high-contrast eye look on the daily — fortunately, there are some simpler, equally trendy looks in style at the moment.
"Practical and easy products to use like the Surratt Beauty Auto-Graphique Eyeliner ($42, barneys.com) can save you time," says Sotomayor, who loves liquid liner for its convenience and impact. This one, in particular, is available in black, brown, plum, and navy shades, and when you buy the product once, you can save some coin on backups by opting for the Eyeliner Refills ($18, barneys.com) when your original runs dry. It definitely beats buying a whole new liner — plus, it allows you to try out all the chic shades.
How do you use this liner to create an effortless, everyday fall eye? "You can do a beige wash of matte shadow all over the lids, and then do two simple swipes of the brush pen across the upper lash lines of each eye," instructs Sotomayor. Throw on some mascara, and you've got yourself the ultimate five-minute look for busy mornings.
"Finishing it off with the liquid liner saves you time you might have spent layering or blending multiple shades of eyeshadow," says Sotomayor. "Matte shadows feel autumnal because the velvety look is reminiscent of cozier fall fabrics like flannel." If you're on the hunt for some great matte shades, the Too Faced Natural Matte Eyeshadow Palette ($38, toofaced.com) is a must for creamy, pigmented, fall-approved neutrals.
Something Matchy-Matchy
Our final trend for eyes is actually one for lips, too, according to Sotomayor, who predicts that "coordinating similar tones on both eyes and lips is going to be popular." He's even taken it for a spin on celeb client Sasheer Zamata, who wore the neutral-glam combo to the Creative Arts Emmys and looked, well, incredible.
For this matchy-matchy look, Sotomayor went with shades for both eyes and lips that would appear taupe-y on Zamata's skin tone, and used the CoverGirl Exhibitionist Metallic Lipstick in shade "Can't Stop" ($6, target.com), as well as the Sisley Paris Phyto-Eye Twist in shade "Bronze" ($50, sisley-paris.com).
While the thought of a monochromatic, coordinated look can often draw more intense, editorial combos, like fuschia eyes paired with hot pink lips, to mind, Sotomayor says you can rock the trend with neutrals, too, and the results are just as fab. "These are great nudes that give a slight '80s feel, but in that cool-girl, on-her-way-to-work vibe. As you can see with Sasheer, they really let you see focus on the eyes."
It's safe to say I'll be trying out all three of these looks and stalking Sotomayor's Instagram for more fall glam inspiration. Consider the above trends celebrity MUA-approved, and prepare to see all three on the reg throughout the fall season.